By Tory Hernandez
Arizona Daily Wildcat August 28, 1997

ASD displays enthusiasm for the coming year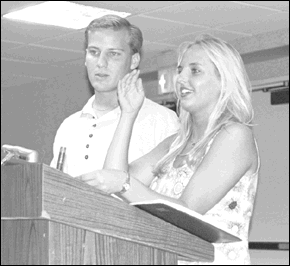 Leigh-Anne Brown
Arizona Daily Wildcat
Associated Students President Gilbert Davidson and Administrative Vice President Tara Taylor present their issues at the first ASUA Senate meeting. Taylor informed the Senate of the financial needs of the Association of Students with Disabilities.

After almost losing its status last May as an Associated Students program and service, last night the Association of Students with Disabilities rallied back early, displaying its enthusiasm for the new year at the first ASUA Senate meeting of the semester.
ASD Director Judy Schneider, a graduate student in rehabilitation counseling, began the meeting during the call to the audience, informing the senators of ASD activities and plans for the year.
ASD was cut by last year's Senate as a program and service for several weeks, but was revived after ASD members protested and marched against the decision, proving to the Senate that the members believed in the importance of keeping ASD as a program within student government.
"I am very impressed with ASD so far this year," said Casey Cuny, ASUA executive vice president. "Judy is up here (at ASUA) every day, getting things done."
In an effort to assist University of Arizona's disabled community, ASD informed the Senate that it will request several thousand dollars for three assistive devices for disabled students, to be set up in the ASUA office.
"This will be a worthwhile expense to get more students to participate in ASUA," Tara Taylor, administrative vice president, said. Taylor is working with ASD to present the proposal to the Senate in the coming weeks.
Schneider said the addition of a TTY phone answering device, a two and four track capability tape recorder and a duplicating device is necessary to reach all of the disabled students on campus.
Schneider said blind students, who cannot read posted messages, and other disabled students will benefit from these devices.
"We want to be able to relay any printed material about meetings, upcoming events and ASUA meetings to disabled students."
Currently the Center for Disability Related Resources houses a TTY phone answering device, but it is not affiliated with ASUA.
Schneider said she hopes for an increase in ASD involvement this year, and has been working with CeDRR counselors to inform students about ASD.
"We cannot receive lists of students, but we have been talking with CeDRR counselors so students can be informed about our activities," she said. "It's up to the students to contact us."
In other matters, the senators unanimously passed its $688,000 budget for the upcoming year, an increase of $131,500 from last year's budget.