By Craig Degel
Arizona Daily Wildcat November 24, 1997

Rising talent - Tebbs game is driven by spunk and spirituality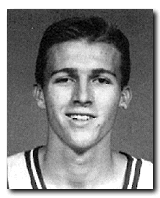 Wildcat File Photo
Arizona Daily Wildcat
Quynn Tebbs

With his smooth shooting stroke and the vertical leap of a kangaroo, Quynn Tebbs is quickly becoming a favorite among Wildcat basketball fans.
Despite being just 6-foot-1, he finished second to Bennett Davison in the Midnight Madness slam dunk contest and his five three-pointers delighted the McKale Center crowd at the Red-Blue scrimmage on Nov 1.
Head coach Lute Olson is starting to take notice as well.
"He has a lot of inner confidence and a lot of inner strength," Olson said.
Like fellow Wildcat Michael Dickerson, Tebbs' inner strength comes from a strong faith in his religion. Tebbs is a devout Mormon who put off his basketball career to fulfill a two-year mission that took him to Brazil.
"It was the greatest two years of my life," Tebbs said. "The people down there are great."
There was one problem, though. Tebbs said that in two years, he played in eight basketball games, none of which were fullcourt contests.
"There were rules for missionaries," he said. "They didn't want fullcourt games so we'd play three-on-three halfcourt games. Or I'd see kids on the street and I'd shoot around with them in my shirt and tie."
Upon returning, Tebbs renewed his interest in playing Division I basketball. Out of high school, where Tebbs still holds the Utah state record for three-pointers in a game with nine, he was going to play at Utah before having a falling out with head coach Rick Majerus -"We got in an argument." - and turning his attention to Arizona.
The Wildcats recruited Tebbs out of high school and Olson wanted him to play in Tucson for two years, complete his mission and return to Tucson for his final two years of eligibility. Tebbs said no thanks. But the Wildcats didn't forget Tebbs, something for which Olson is now thankful.
"He has made an immeasurable difference for us in practice," Olson said. "He is highly competitive. Quynn is not going to back off anybody. Whoever he is guarding, he is going to get after."
It didn't happen overnight, though. Tebbs requested a redshirt year to improve his game and adjust to college life. The extra year, he said, has been invaluable.
"Last year at this time, I wasn't close to the player I am now," Tebbs said. "I'm ten times better than I was."
Perhaps that's one of the reasons that in the Arizona media guide, you are reminded in the team's name pronunciation guide that "Quynn rhymes with win."
"My friends used to call me 'Quynner the Winner,'" Tebbs said. "Then it just became 'Winner.'"