By Craig Degel
Arizona Daily Wildcat November 24, 1997

Mr. Iowa Basketball ready for action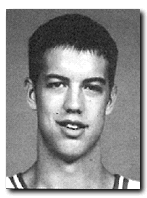 Wildcat File Photo
Arizona Daily Wildcat

Justin Wessel


Lost in the fixation over the signing of Mike Bibby to the Arizona basketball team in the fall of 1995 was Justin Wessel.

Actually, just call him "Mr. Iowa Basketball."

That's the title he won after averaging 27.5 points and 9.8 rebounds a game during his senior season at Prairie High School in Cedar Rapids.

The 6-foot-8, 211-pound Wessel had to wait though, to display his skills for the McKale Center crowd. He fractured his left ankle last fall, right about the time the coaches were considering taking him out of his redshirt year because of an injury to A.J. Brmalett and Miles Simon's academic problems.

His season and summer were spent in the weight room and playing basketball. In fact, Wessel said the highlight of his summer was stripping a ball from Washington Wizards' forward Juwan Howard.

His versatility on the floor will be a big plus for the Wildcats. He can play the forward position but is comfortable bringing the ball up the court as a guard, as well.

"He provides flexibility," Arizona head coach Lute Olson said. "He can be used as a swing forward but he needs experience first."

Wessel's first action came during Thursday night's throttling of Morgan State. He notched three points, three rebounds and an assist.