By Michael Isaac Jacobs
Arizona Daily Wildcat February 2, 1998

Women's tennis team split weekend, men spanked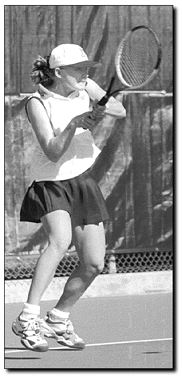 Leigh-Anne Brown
Arizona Daily Wildcat
UA freshman Joanna Buczkowska was a key contributor to this weekend's play against UCLA and Southern Cal at the Robson Tennis Center. The Wildcat's beat USC and barely missed a win against the Trojans.

While most students enjoyed a weekend away from the office known as school, UA's women's tennis team handled business with ease against No. 25 Southern Cal, Friday.
They came within a whisker of shocking second-ranked UCLA the next day at the Robson Tennis Center, but fell one point shy of an upset in a 5-4 loss to the Bruins.
The Wildcats, who entered Pacific 10 Conference play at No. 23, surged past the Trojans with a 7-2 victory.
"The weekend was a step in the right direction because it proved that we're better than our ranking," team captain and senior Vicky Maes said. "This is probably the best team, in the sense of our closeness, we've had in the four years I've been here."
UCLA entered doubles play with a 4-2 lead, meaning UA (3-2 overall, 1-1 Pac-10) would have to win all three doubles matches to pull off the upset.
Maes was paired with her second doubles partner in as many days, freshmen Joanna Buczkowska. But they dropped an 8-5 decision to the Bruin combination of Cristina Propesca and Elizabeth Schmidt to give UCLA the team win.
"We know that next time we will be able to beat them," Buczkowska said. "We will be practicing harder to get our games up to a higher level."
"We should have taken advantage in the UCLA match, but it's good to know that we really could have won," Maes added. "It's a long season, and we have done very well so far."
On Friday, USC managed two singles victories before being swept in doubles.
For a team comprised of three freshmen - Vanessa Abel, Michelle Gough and Buczkowska - a convincing thrashing of the Trojans and a single point loss to the second-ranked team in the country could be a turning point, Maes said.
"When I was a freshmen, I didn't realize what playing against the division was all about," she said. "But I think the three freshmen are getting a sense of what Pac-10 play is all about."
Men overmatched at UCLA, USC
The No. 61 Wildcat men suffered a 6-1 loss to second-ranked UCLA at the Los Angeles Tennis Center Friday.
The lone point came from a 6-3, 2-6, 7-6 victory by Pascal Salasca in the sixth singles position.
Salasca and Jean-Noel Lacoste prevailed 8-5 over Vince Allegre and Chris Sands, but UCLA claimed the doubles point by winning two of the three matches.
After UA's match with the Trojans was rained out Saturday, the teams met yesterday. No. 10 USC won every match en route to a 7-0 thrashing at the Marks Tennis Stadium.