IFC tightens reigns on academic standards for Greek life programs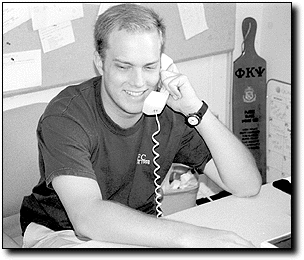 Matt Heistand
Arizona Daily Wildcat

Interfraternity Council President David Suiter takes calls yesterday from his office in the Memorial Student Union. IFC raised academic standards for Greek-bound students, calling for a minimum 2.5 grade point average for people coming from college, and 2.75 from high school.


In an effort to tighten sagging fraternity GPAs, the UA Interfraternity Council has imposed new academic standards for students seeking the Greek life.

This semester, IFC introduced a minimum grade point average requirement for rushers - 2.75 for those coming from high school and 2.5 from college, IFC member Doug Lipsky said.

"Grades have taken a gradual decline over the last few years and we are trying to redirect the focus of fraternities to encompass social and academic success," said Lipsky, a political science and finance senior. "Right now, 'fraternity' seems to be a taboo term because of the negative portrayal of Greek life."

He said the first step to changing negative stereotypes is raising GPAs within fraternity houses.

IFC also voted to raise the minimum grade point average for existing fraternity members from 2.0 to 2.25, said Bob Gordon, the University of Arizona's coordinator for Greek life programs.

Gordon said past academic problems have forced the UA to consider a Pavlovian approach to grade enforcement.

"We are in the process of developing a reward system and a sanctioning system for those houses who get above and below the required 2.25 GPA," he said.

A fraternity member's grades do not matter, as long as the house's average GPA does not fall below 2.25, Gordon said.

Previously there had been no minimum GPA - each fraternity house's national chapter set its own individual standards, said IFC President David Suiter, a history senior.

"The types of sanctions we are possibly looking at are social restrictions and proof of what the houses are doing to educate their members and possibly turn them around," Suiter said.

Jackie Dalman, UA Panhellenic Association executive vice president, said her organization does not have the authority to mandate sorority grades the way IFC does.

Some fraternities have an "If I like you and you like the house I will initiate you and GPA doesn't necessarily matter" attitude, said Pi Kappa Alpha President Daniel Furtado.

"We can initiate anyone in college at the UA even if their GPA is below a 2.0," Furtado said, "but if a student does get below a 2.0 often times they are held over until the next semester before they are initiated."

Some fraternity members saw the new standards as a positive step.

"The new rules reflect the Greek system's desire to improve and reform itself academically," said Beta Theta Pi member Matt Brinkman, an entrepreneurship and marketing senior.

PIKA member Devin Page said he hoped the new rules would create a competitive spirit.

"Hopefully it will encourage the fraternities with lower GPAs to achieve the standards of the more academically stringent frats," said Page, a physiology junior.

"The reason behind the push toward improving academic success is because one of the main precepts of the Greek system is scholarship and academic success," Gordon said. "It is a privilege to be a member of the Greek system."

To encourage his own house to get better grades, Furtado said he sets a good example and threatens social probation for those who fall below a 2.0 GPA.

"I always tell my guys, 'Mom and Dad sent you here to get good grades, not to be a frat boy," Furtado said.

Angela Romano can be reached via e-mail at Angela.Romano@wildcat.arizona.edu.