Reptiles, snakes important to life of Seri Indians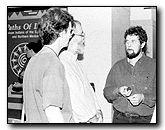 Wildcat File Photo
Arizona Daily Wildcat

Gary Nabhan, director of science outreach at the Arizona Sonora Desert Museum, talks with members of the Tucson community at a reception after Nabhan's lecture on the Seri people of the Sonoran Desert. Nabhan's lecture kicked off the New Directions of Southwest Anthropology Lecture Series.


The Seri Indians of western Mexico are fearless when it comes to rattlesnakes - but geckos are a different story.

"The kind of phobias we (Americans) have about snakes, they have about non-venomous reptiles," said Gary Nabhan, director of science outreach at the Arizona Sonora Desert Museum. "They are incredibly frightened of geckos and night lizards."

The Seris have a unique relationship with reptiles in western and coastal Sonora, Nabhan said last night to about 140 people in the Economics building as part of an anthropology lecture series on Seri wildlife knowledge.

"They have more than 100 songs about reptiles," Nabhan said.

Nabhan said that to Seris, geckos have a transparent, fetus-like appearance and supernatural powers. The tribe members fear the reptiles and keep child-bearing women away from them, believing they may affect present or future pregnancies.

Nabhan said that Seris do not fear venomous reptiles like rattlesnakes and gila monsters.

"Seris aren't afraid of rattlesnakes, in fact they seek them out," he said.

Nabhan said the Mexican Indian tribe uses all the parts of the rattlesnake: the meat for food, the skins for decoration, the bones for necklaces and the oil for medicine.

"Snake oil is a major medicine for the Southwest," he said, noting that snake oil doesn't carry the connotation of fraud that it does in the United States. "For them, if it works, why not use it?"

Nabhan said that there is a definite risk involved in capturing venomous snakes. He said many Seris he has talked to over the last five years have been bitten. The tribe has its own remedies for treating the symptoms of rattlesnake bites.

"They have five different herbs they use," he said. The herbs reduce the symptoms such as shock, dehydration, swelling and nausea.

Nabhan said young Seri girls collect the herbs. "It's a shared knowledge of herbs, it's not a medicine-man situation."

He said the traditional knowledge and culture of the Seris is declining with each successive generation. Efforts must be undertaken to restore the Seri's unique and detailed knowledge of desert and sea, he said.

Thomas Stauffer can be reached via e-mail at Thomas.Stauffer@wildcat.arizona.edu.