International free enterprise club expands to UA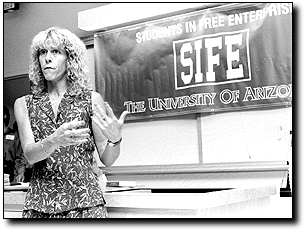 Wildcat File Photo
Arizona Daily Wildcat

Lisa Borstad of Northern Arizona University told prospective members of Students In Free Enterprise her views on international organization, free enterprise concepts and community service. SIFE is a new UA organization.


An international organization for business-minded students expanded its global influence last night by adding the University of Arizona as a new club site.

Before an audience of about 30, Students in Free Enterprise officials held a meeting last night for those interested in joining the club.

The organization's goal is to develop leadership and help the community through teaching, learning and practicing the principles of free enterprise, said Melinda Burke, the club's faculty adviser.

Students participate in an average of three to four service projects per month, teaching the community about free enterprise, retailing and consumer studies, said Gary Siegel, who is in charge of the club's marketing and public relations.

"Right now we are targeting Tucson youth," he said.

The club's first service project is a Sept. 16 fashion show to teach students proper business attire.

Vice President Thomas Payne said that each April campus teams compete regionally, giving audio-visual presentations and speeches on how they teach free enterprise to the community.

The judges are chief executive officers from national companies such as Coca-Cola and American Express, he said. Teams can win up to $2,500 to use for traveling expenses, promotional fees and other club-related costs.

The top two finalists at the regional competition move on to the Kansas City, Mo., international competition in May and can win up to $20,000, Payne said.

The competitions involve giving presentations, answering judges' questions and cleaning up - all within a strict 30- to 40-minute time limit.

The club also helps students find jobs, Payne said. Typically, several hundred graduates a year receive jobs in judges' companies, he said.

Retail and consumer studies junior Heather Kauer said she was surprised to learn that the club focuses a great deal on community service.

Holly Heideman, also a retail and consumer studies junior, said the new club provides a great chance to network.

"I came to the meeting to find out more about opportunities to broaden my leadership skills," she said.

The 20-year-old organization meets at more than 600 colleges and universities across the United States and eight in foreign countries, spokeswoman Ellen Langas Campbell said.

Burke said students in the club learn skills that will help them in future careers.

"For a college graduate to be successful, they must understand the concepts of free enterprise, because it effects all parts of our life," she said.

Rachael Myer can be reached via e-mail at Rachael.Myer@wildcat.arizona.edu.