Soccer team starts road trip at Wyoming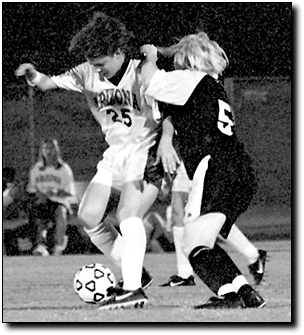 Leigh-Anne Brown
Arizona Daily Wildcat

Senior midfielder Veronica Ramirez (25) keeps the ball away from a Glendale Community College player Tuesday at Murphy Stadium. Ramierz and the rest of the UA team will play Wyoming in Laramie, Wyo.


After a big win last Tuesday the UA women's soccer team is prepared for a three-week road trip starting this weekend in Wyoming.

"We're going to take this win and confidence into out next games, and we'll be great. We were on target tonight, and got rid of the first game kinks. We're 100 percent fine and ready to go," sophomore goalkeeper Inger Airheart said after the Wildcats' 12-0 exhibition victory over Glendale Community College.

The Wildcats begin their first game of regular season play today at 4 p.m. against Wyoming in Laramie, Wyo. They will continue their stay in Laramie through Saturday when they will face Auburn at 3 p.m.

"When we've played Wyoming in the past, it's always been a good game. It will definitely be a much closer game then we dealt with at our exhibition game," assistant coach Jen Netherwood said.

The Wildcats last met the Cowboys in '96, when they defeated them 2-0. Tomorrow will be their first encounter with Auburn.

Although the team is coming off a blowout win, the players have still been working out some small problems they encountered during the Glendale game, assistant coach Bruce Caris said.

"We dribbled a little more than we should've at times, and will be able to against Wyoming. We'll definitely be facing quicker teams coming up, so we're preparing for the faster competitor," he said. "We also need to work a little more with our forward system. There is a small gap in just knowing what to do when we have our newer players in versus our older girls with experience."

The Wildcats will rely on the experience of their returning seniors, defender Veronica Ramirez and forward Nikki Jones.

"I really think this will be our strongest year. All the players, new and old are stepping up in leadership to get the job done," said Jones, who has two goals to her name this season already.

Caris also commented that the team is looking forward to the next 24 months together because the core of the team will be roughly the same set of girls.

"We will be concentrating on our quality of depth and perfecting our transitions, so that when we sub in we won't lose our level of play," he said.

The Wildcats will have a chance to test the quality of their play in the upcoming road games, hopefully achieving the team goal of seven wins in nine games.

"We're off to a good start. Our only problem would be if we doubt ourselves. If we keep up our confidence, knowing we can do this and get these wins, then we'll do just that," junior defender Jill Micone said.

Kate Longworth can be reached via e-mail at Kate.Longworth@wildcat.arizona.edu.