Volleyball team hits Colorado for difficult tourney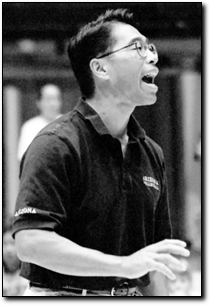 Aaron Wickenden
Arizona Daily Wildcat

UA head coach David Rubio outlines some of the finer points of volleyball at a clinic last week at McKale Center. UA volleyball players will participate in the University Park Holiday Inn Classic this weekend in Fort Collins, Colo.


Coming off a win on the road at San Diego State Tuesday, the UA volleyball team travels to Fort Collins this weekend for the University Park Holiday Inn Classic in Fort Collins, Colo.

UA opens with Middle Tennessee State Friday and plays Indiana and Colorado State Saturday.

"Indiana is going to be a good team, and I expect them to be the toughest team," UA head coach David Rubio said. "CSU is very much like we are because they are very young, and it's those teams that I worry about."

Assistant coach Charita Johnson agreed that Indiana will be tough.

"If nothing else, Indiana has experience, and that's a key factor," she said.

The major bonus from going to Colorado this weekend will be the opportunity to play against better opposition.

Indiana returns all but one starter from last season's 18-15 squad. Colorado State, 27-6 last year, returns only two, while Middle Tennessee State has three starters back from an 11-23 team. With the way the schedule falls for Arizona, the teams get better and better as the weekend progresses.

"This weekend is important because we'll be playing better teams," senior middle blocker Keisha Johnson Demps said. "You tend to play better when you play better people."

"It will give us a clearer picture on where we are and what we need to work on in practice," Rubio said. "We certainly have the talent to win the tournament."

Allison Napier, who had a career-high 18 kills Tuesday, will be one to watch for Arizona.

"Alli was dominant, along with Keisha," Rubio said. "Alli has really come into her own. She's a full-time player, and any time you go from a part-time player to a full-time player, there's a psychological adjustment. I've seen great growth from her, and she's demonstrated a much better frame of mind."

Rubio has four players he expects to perform well night in, night out. They are Napier, Johnson Demps, junior Raelene Elam and freshman setter Dana Burkholder, who had 47 assists in her debut.

"Honestly, in her first match in an Arizona uniform, Dana played very well. She never showed signs of being a rookie, and really distributed the ball well to Alli," he said.

Bryan Rosenbaum can be reached via e-mail at BryanRosenbaum@wildcat.arizona.edu.