Bookstore alters rails to halt skaters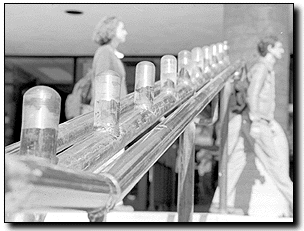 Wildcat File Photo
Arizona Daily Wildcat

The ASUA Bookstore welded large knobs on the rails in front of the store in efforts to curb skateboarders. The store spent $2,500 to solder the knobs.


ASUA Bookstore officials took a stand against skateboarders this month by welding large knobs on the blue hand-rails outside the store.

Frank Farias, director of the University of Arizona Associated Students Bookstore, said the knobs cost the store about $2,500.

"I don't look at it as a cost but more of an investment for protection of the university against liability suits," Farias said. "We don't want someone falling down the stairs because the railing was broken."

As skaters push off bookstore walls and slide down the railings, paint becomes chipped and the walls get dirty, Farias added.

"We were directed to repair the damages by the university," he said. "It was costing us about $300 a semester and often, right after we would get them repaired, they were damaged again."

Farias said he is unsure whether knobs will show up along other university railings. Bookstore officials made their decision independently to "protect their investment," he said.

"We asked the university welding shop for an alternative for eliminating the damage done to the property, and this is what they came up with," he said.

University of Arizona Police Department Cmdr. Brian Seastone said skateboarding is prohibited along any railing or on the side of buildings where warning signs have been posted.

Skaters who disobey the signs could face criminal charges.

"If damage to the property occurs, they could be arrested for criminal damage," Seastone said. "If they are making a commotion, they could be arrested for disorderly conduct."

Adam Weinstein, a skater, admitted to sliding down the rails, but didn't think the metal knobs were necessary.

"I think it's terrible," said Weinstein, an English junior. "Metal bars don't get destroyed by people skating on them."

Weinstein said he thought the bookstore could consider alternative solutions to rail damage.

"They should take the money from all the tickets they give skaters and restore the property," he said. "We're not out to destroy property. We're only out to have fun."

Weinstein doubted the welded knobs will be effective.

"I think it's a challenge for people now. I wouldn't attempt it but I bet someone will," he said.