Finding ways to win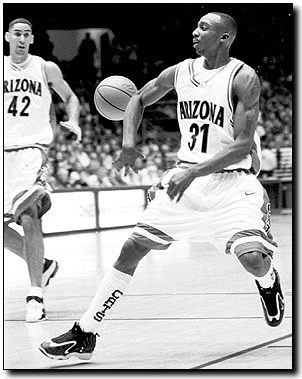 Ian Mayer
Arizona Daily Wildcat

Senior point guard Jason Terry (31) gives a behind the back pass to senior center A.J. Bramlett (42) in the 92-86 win over the Oregon Ducks at the McKale Center Saturday. Terry scored 32 points, had four rebounds and seven assists.


One note about Arizona men's basketball games this season.

They're not boring.

The No. 8 Wildcats (20-4, 11-3 Pacific 10 Conference) have won close games with acrobatic shots, lost close games with missed free throws and done just about everything else possible to give fans a show, if not a heart attack, while amassing head coach Lute Olson's 12th consecutive 20-win season.

After blowing out Oregon State by 17 points Thursday, Arizona looked like it would do the same with the Oregon Ducks (14-10, 6-9) Saturday night, jumping out to an 8-0 lead behind four points apiece from Richard Jefferson and A.J. Bramlett.

But the Wildcats' shooting touch started to fail as Oregon went on a search and destroy mission, collecting 15 fouls in the first half alone. Officials twice stopped play in the first half to warn players about physical play.

That didn't seem to help too much, though, as Bramlett took an elbow to the face and Michael Wright needed two stitches in his lip after getting hit by Duck forward A.D. Smith.

Overall, seven OU players had two fouls in the first half and by the end of the game, three players sat with four fouls and center Mike Carson and guard Terik Brown had fouled out.

"They were fouling so much, I couldn't really get into a flow," junior forward Eugene Edgerson said. "It was a hard game to get into."

So while Arizona shot only 42 percent for the first half, going 14 for 33 from the field and 1 for 6 from three-point range, the Wildcats stayed in the game at the free throw line, hitting 15 of 16 free throw attempts after getting into the penalty with 12:47 left in the first half.

Arizona stretched a 45-36 halftime lead to 12 early in the second half, but the inability to guard Oregon forward Alex Scales allowed the Ducks back into the game.After Scales hit a three-pointer to cut the Wildcat lead to one, Arizona responded with a Wright jumper and a Terry-to-Bramlett ally-oop to push the lead back to five at 66-61.

But the Bramlett dunk would be the last Wildcat field goal for three and a half minutes as the Ducks went on a 12-0 run behind seven made free throws.

Arizona came back to tie the game at 73 on a Jefferson three-pointer, but Oregon again pushed the lead back up to four before the Wildcats would close out the last seven minutes on a 19-9 run.

Jefferson was instrumental over the last few minutes, assisting on Terry's three-pointer with the game tied 84-84 with 1:35 left, and hitting all four of his free throw attempts.

Jefferson finished the game with 18 points, four rebounds and five assists, while Wright added 19 points and 13 rebounds and Bramlett scored 22 points to go along with eight rebounds.

Terry, who scored 37 points in the Wildcats' first win over Oregon, scored 32 Saturday despite going scoreless for the first six minutes.

"That's just Jason Terry," Jefferson said, seeming amused by the fact that people are still amazed by Terry's performances. "I don't know what else to say."