No bench, no problem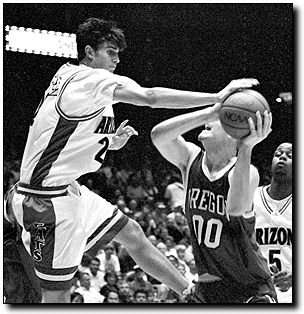 Jennifer Holmes
Arizona Daily Wildcat

Freshman forward Rick Anderson (22) blocks the ball from junior forward A.D. Smith (00) Saturday afternoon at McKale Center. Anderson was not a factor, playing 14 minutes and scoring no points.


In 61 minutes of play, the UA bench and fifth starter accounted for only one point of the Wildcats' 92 total points in their 92-86 win over Oregon Saturday afternoon.

Four Wildcats, Richard Jefferson, Jason Terry, A.J. Bramlett and Michael Wright, combined for 91 points. Terry had a game-high 32, Jefferson netted 18, Michael Wright had a double-double with 19 points and 13 rebounds and Bramlett added 22 points to his eight rebounds. Fifth starter Rick Anderson shot 0 of 2 from the field in 14 minutes of action.

Heading into the second half, the UA bench had no points, one steal and two assists to its credit.

The lone UA bench point came with 37 seconds left in regulation, when Eugene Edgerson made one of two free throw attempts to put the Wildcats up 90-84.

Asked if he was concerned about the lack of bench play, head coach Lute Olson said he felt comfortable with the win and wasn't worried about how his team spread out its scoring.

"As long as we have more on the scoreboard at the end of the game it doesn't matter at all," he said.

Terry was equally unconcerned.

"We didn't need them tonight," he said.

The UA bench and Anderson shot a combined 0 of 9 from the field including 0 of 4 from three-point range.