Big Politics, little business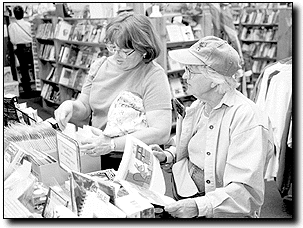 Matt Heistand
Arizona Daily Wildcat

Carmine Sargent (left) and her mother Dolly Sinclair look through greeting cards yesterday afternoon at Antigone Bookstore on 4th Avenue. Rep. Linda Gray, R-Phoenix, threatened to cut the UA Women's Studies Department budget if they continued to order their books through Antigone.


The owners of Antigone Books see their store as a small business, not a controversial feminist retailer.

So when a state legislator urged University of Arizona officials to stop allowing professors to order texts through Antigone, the store owner was "baffled."

"I don't quite understand it because in the state of Arizona, they have laws about protecting small businesses," said Trudy Mills, the store's co-owner. "We kind of feel like that's what we are."

The UA has a policy, written by the provost's office, mandating that instructors make books available through the Associated Students Bookstore.

Larry Evers, the English department head, said he tries to follow the UA's policy.

"The official English department policy is we encourage instructors to order books from the ASUA Bookstore," he said, adding that employees are free to order books from off-campus businesses as well.

This semester, Antigone, located at 411 N. Fourth Ave., carries books for about 30 classes, including English, sociology, education and history, Mills said.

Although Antigone relies heavily on the university community for business, the UA is shifting away from ordering books at the feminist bookstore, Mills said.

"I don't think the UA wants to go on this way," she said. "There have been professors who feel pressured not to order here."

Yvonne Zylan, an assistant sociology professor, said she supports Antigone.

"I want to support an independent booksellers in Tucson," Zylan said. "Hopefully they're gaining exposure to feminist culture. I want them to venture beyond the campus confines."

Rep. Linda Gray, R-Phoenix, took issue with the bookstore because students complained they had to go off-campus to purchase texts. She introduced legislation that threatened to eliminate the UA's Women's Studies Department.

But Gray later abandoned her proposal, saying she would reconsider introducing the legislation if the department does not adopt a more conservative attitude.

Julia Balen, associate director of women's studies, said instructors often want students to experience the atmosphere of a women's bookstore.

"Some people have never been to a women's bookstore," she said. "In terms of educational purposes, it's a way to get students to realize how large of a selection there is."

Balen added "education is breaking through stereotypes.

"I refer to feminism as the F-word," she said. "It (going to Antigone) is a way to break that mentality."

Mills said the store does not promote a particular agenda, but tries to keep a diverse selection of texts.

"When a person comes into our store, sexual preference is not our business or our issue," she said.