Arizona to face Huskies for first time since 1992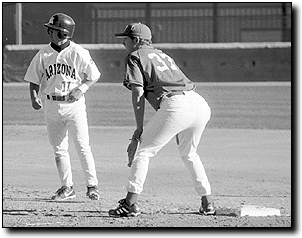 Wildcat File Photo
Arizona Daily Wildcat

Sophomore Keoni DeRenne leads off first during a game earlier this season. The UA baseball team plays Washington tonight at 7 at Frank Sancet Field.


If the UA baseball team (20-14 overall, 3-6 Pacific 10 Conference) wants to have a chance at making it to the regional playoffs, they are going to have to win, and win now.

"We just have to play well," UA head coach Jerry Stitt said. "We do have to win. We only have 15 more conference games left and we have to win to get into the regionals.

"To me it doesn't matter what our record is because I believe we are in the top 40 if not 30 in the nation. But it is wins and losses that get you in."

With Washington (15-8, 4-2) coming into town to begin a three game series tonight at 7 at Frank Sancet Field, getting back into the win column won't be an easy task.

"They have three good starting pitchers and a new lineup different from last year," Stitt said. "But they have pretty good guys who have been swinging the bat well."

Leading the charge for the Huskies' pitching staff will be junior Jeff Heaverlo (4-1, 3.40 ERA), who will pitch tonight, and sophomore Jeff Carlsen (4-0, 2.68 ERA), who will throw tomorrow night.

Carlsen is a preseason All-American after a 7-3 freshman season and Heaverlo is considered one of the nation's top pitching prospects after going 7-4 last year and 5-3 his freshman season.

Countering UW's pitching will be freshman right fielder Shelley Duncan, who will try to continue his home run tear which is now at 13, and sophomore shortstop Keoni DeRenne, who leads the team in hitting at .378 and is third in RBI with 29.

This series begins a new era for the Wildcats and the Huskies as the two teams are meeting for the first time during the regular season. The Huskies, along with Washington State and Oregon State, joined the six Southern Division teams to form a single, nine team conference for this season.

The only meeting between Arizona and Washington took place in regionals May 22, 1992, when the Huskies won 6-5.

With the minimal history between the two teams, it would be safe to say the Wildcats and Huskies are going into this series blind.

Some of the UA players, though, disagree with that.

"I wouldn't say we are blind, but maybe we will be more focused on playing a team that you don't know much about except the fact you know they are coming to play ball," junior outfielder Rafell Jones said. "We are going to have any tendencies from years past, so the only thing we have to do is come out and play hard."

The Huskies, who are coming off a sweep of UCLA last weekend, are the two-time defending Pac-10 North champions. But with the Wildcats in need of victories, that fact about UW hasn't even entered their minds.

"I am looking to sweep them," sophomore third baseman Erik Torres said. "We have to go out, play hard, get them down and knock them out early."