UA special teams bounce back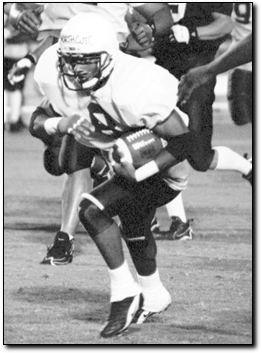 Matt Heistand
Arizona Daily Wildcat

Junior wide receiver, Dennis Northcutt (8), makes his way through defenders during a UA scrimmage on Sept. 25. In last week's season opener against Hawaii, Northcutt had seven returns for a total of 70 yards, including one for 29 yards.


Last year the Arizona punting game was a bit lacking.

The Wildcats punted for only a 33.2 yard net average per game in 1997, while their opponents managed 38.9 yards per game.

Arizona was also bested in punt returns, with opponents averaging 9.7 yards per game while UA gained only 8.9.

But if last Thursday's game at Hawaii was any indication, the Arizona special teams may be on the upswing this year.

"I felt 100 percent better than in the opener last year," UA senior punter Ryan Springston said.

Springston punted 10 times at Oregon last year and averaged only 34.2 yards per punt. Against Hawaii he only had to punt five times, racking up a 41.6 yard per punt average.

"It's about 90 percent experience," Springston said of the change.

UA special teams coach Bob Wagner said Springston "did a nice job."

"He had good location, good hang time," Wagner said. "It's what you expect out of a senior."

Springston denied that the emergence of freshman walk-on Axel Trainer, who looked impressive in practice and in scrimmage play, had anything to do with his performance against the Rainbows.

"No, I was confident going in as the starter," Springston said. "Axel's got a gun for a leg, but I've just been doing my own job."

Springston said that he has never felt pushed by another player.

"I'm kicking the way I'm supposed to," he said. "I'm not going to make this into anymore than the friendly rivalry it is."

While Springston has left the Wildcats confident in terms of punting to the other team, junior wide receiver Dennis Northcutt has emerged as the primary punt return man for Arizona.

"There ain't much difference," Northcutt said of his two roles with the team. "You're just playing, it's only the name of the position that's different."

Northcutt had seven returns last week for a total of 70 yards, including one run for 29 yards.

"Dennis is really explosive," Wagner said. "But it was (Chris) McAlister forcing a couple of shanks that really stood out."

With senior cornerback McAlister rushing the punter and Northcutt awaiting the ball, UA has the speed to keep opposing special teams off balance.

"The quicker they get it off, the quicker it gets into Dennis' hands," Wagner said.

The Wildcats face Stanford Saturday, a different opponent with a different look on special teams.

"They have some good players," Northcutt said. "They have a really good punter and they're Pac-10, so going out there it's going to be tough no matter what."

Wagner and Springston both pointed out that Stanford also has an all-conference return man in junior Troy Walters.

Walters, like Northcutt, is a wide receiver who doubles as a punt and kickoff returner.

"We have to do a better job hanging the ball so our guys have time to get their coverage set," Springston said.

Chris Jackson can be reached via e-mail at Chris.Jackson@wildcat.arizona.edu.