Volleyball senior hopes award is good omen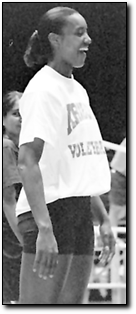 Aaron Wickenden
Arizona Daily Wildcat

Senior middle blocker Keisha Johnson Demps (25) lines up for a drill during the kids volleyball clinic at McKale Center Aug. 23. Johnson Demps has already gained recognition by becoming this season's first Pacific 10 Conference volleyball player of the week.


Senior middle blocker Keisha Johnson Demps made an immediate impact as this season's first Pacific 10 Conference volleyball player of the week - a debut she expects will lead to a strong season and additional accolades in her last year at the UA.

"The first and last time I was recognized with this title was when I was a freshman, so this is a good way to go out, and I hope there's going to be a couple more titles before the season's out," Johnson Demps said.

Johnson Demps was recruited as a Wildcat five years ago from her high school in northern California, and now begins her final season with the UA, after three seasons and a redshirt year.

"When we saw her as a high school player, we knew she had great potential," head coach Dave Rubio said.

Johnson Demps started at the UA as both a basketball and volleyball player, supported on a basketball scholarship, but turned her main focus to volleyball after two years of play.

"I just was not that happy when I was playing basketball. I loved the team, but I didn't feel how I thought I should be feeling," she said. "And it worked out great because I was able to accomplish a lot with volleyball and I can now devote more of my time and focus to it."

Johnson Demps entered her season with a career-high of 16 kills, and after a weekend of tournament play, she posted 16, 17, 18 and 17 kills in her last four matches.

The Wildcats competed in the University Park Holiday Inn Classic at Fort Collins, Colo., last weekend, and brought home a first-place finish.

"It was a great weekend for the team and especially Keisha. But, the exciting news is that Keisha can still be a lot better," Rubio said.

Johnson Demps echoed her coach's thoughts that there is still room for improvement in her game.

"I wanted to win, so of course I did my best for the matches. But this being my last season, I still want to see a lot of improvement in my error department," she said.

Rubio said Johnson Demps is becoming the "go-to" player on the team. The play of the game is focused around getting the ball to her as often as possible.

"I love being constantly involved with every play. I have a lot of different options and sets when the ball comes my way. It's a lot harder position than some, but also a lot more fun," she said.

The Wildcats' 4-0 starting record earned them a No. 25 ranking in the USA Today/AVCA's first regular-season poll.

"I owe all my personal and team achievements and hard work to my faith and belief in God and to my parents. I think my success is due to my determination and my personality of being pretty competitive; that's just pretty much the way I am," Johnson Demps said.

Johnson Demps will continue to have a chance to prove her success as the team begins play again tomorrow morning at home in the Varsity Clubs of America Classic. The team's first match is against Western Michigan at 11:30 a.m.

"I want to leave the season with no regrets, knowing that I gave my game my all and that I couldn't have given anymore," she said.

Kate Longworth can be reached via e-mail at Kate.Longworth@wildcat.arizona.edu.