Laxcats finish season ranked No. 9 after loss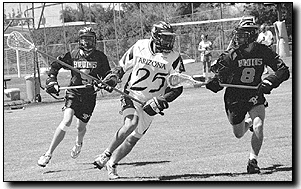 Leigh-Anne Brown
Arizona Daily Wildcat

UA laxcats sophomore defensman Tom Christian (25) cradles a ball during a match earlier this season against UCLA. The Laxcats finished ninth in the country in the US Lacrosse Intercollegiate Asoociation's national championships.


The UA Laxcats took a tough 12-11 overtime loss to the No. 7 seed Colorado Buffaloes in the first game of the US Lacrosse Intercollegiate Association's national championships, but fought back to win their next two games to finish ranked ninth in the country.

Head coach Mickey-Miles Felton said the Colorado game was probably the most exciting game of the tournament.

In a seesaw battle that witnessed nine lead changes, sophomore midfielder Matt Wilkens led the Laxcats with four goals and one assist. Senior attackman Dan Price added a goal and two assists. Senior midfielder Dan McCarthy and freshman attackman Matt Green each scored two goals for Arizona.

The teams were tied at four goals apiece at halftime, and Colorado led 9-8 heading into the fourth quarter. Arizona tied the game late in the fourth but could not score with a man advantage in the final moments of regulation.

The Laxcats missed three shots in overtime before Colorado, playing with a one-man penalty advantage, scored the winning goal two minutes into the period.

UA freshman goalie Greg Parkington recorded 21 saves in the loss.

While Arizona could not continue in the quest for a national championship after losing the opening game, the members of the team decided not to give up and set a new goal of winning the remaining games in the tournament.

"The leadership of the team decided they would rather finish ninth, then go home with the taste of losing in their mouths," Felton said. "This team responded very positively and showed a lot of guts by never giving up."

The day after losing to Colorado, Arizona beat Texas A&M soundly 19-7. The Laxcats came out strong and charged to an 8-2 halftime lead. With seven third quarter points, Arizona cruised to the victory.

Wilkens led the team with five goals and two assists. Price scored six goals and McCarthy scored twice. Parkington had another solid outing, recording 15 saves and never allowing the Aggies more than two goals in a quarter.

Sophomore defenseman Jeff Cady said it was great to rebound from the tough loss to Colorado.

"It was great to show to everyone that even though we lost we really belonged," Cady said. "We new the best we could do was finished ninth place and our team has grown enough understand what it takes to finish on a positive note."

The following day, Arizona defeated Illinois 13-11 in a tough game which saw the Laxcats commit 15 penalties. In his final game as a Laxcat, Price scored three goals and had three assists. Arizona came out strong in the opening quarters of each half scoring five goals in both the first and third periods.

Cady said that Price was the most important part of Arizona's success this season.

"If Dan had a bad game the whole team had a bad game," Cady said.

The game also showed why the returning players for the Laxcats are optimistic about next season as Green and Wilkens each scored four goals.

"We had a young team, and we grew a lot this season," Cady said. "As long as we stay focused this summer, and return next season reedy to put in the work, there is no reason this team shouldn't return to the national championships with the goals of winning it all."

Felton agreed that if the players work hard this summer next year's team should be very successful.

"We have made some tremendous strides from the beginning of the season," Felton said. "If we are willing to build and keep improving from this point then we have a bright future in front of us."

The Laxcats return all but four players from this year's team, and with a solid recruiting class being added to a team which already has a good nucleus of young talent, the Laxcats of 2000 could be quite a team to watch.

Chris Reimer can be reached at Chris.Reimer@wildcat.arizona.edu.