Cross Dressing for a cause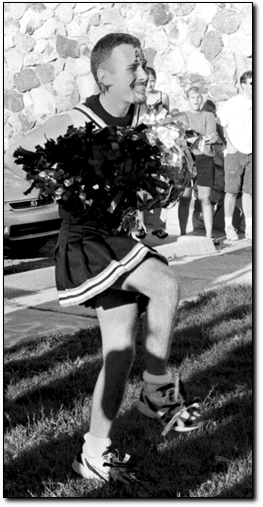 Jennifer Etsitty
Arizona Daily Wildcat

Ecology and evolutionary biology senior Mike Dinucci performs for the "Mr. Watermelon Bust" contest at the Lambda Chi Alpha house Friday. Dinucci won the contest based on his appearance and choreography.


Would you sacrifice your self-respect for the plight of the homeless?

Some members of a UA fraternity appeared to do just that Saturday when they dressed in skirts and enlisted sorority members to push watermelons with sticks.

But the Lambda Chi Alpha fraternity had the homeless in mind and - with the help of 11 sororities and 104.1 KZPT FM - raised 5,300 pounds of food for the Tucson Community Food Bank as part of the 14th annual Watermelon Bust.

"We like to support community events, and they (charities like the food bank) don't get enough money," KZPT promotions director James Bowman said.

Watermelon Bust chairman Jeff Cary said the sororities were organized into "teams" consisting mainly of pledge classes. Lambda Chi Alpha members then 'coached' the women.

Sorority members helped collect the canned food last week and participated in "Olympic-style" events at Gittings Field Saturday, Cary said.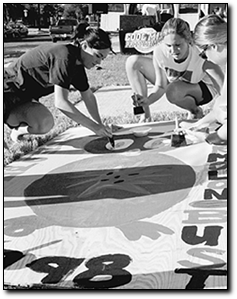 Jennifer Etsitty
Arizona Daily Wildcat
From left, business and MIS freshman Rachel Lelson, undecided freshman Carissa Morrison and biology sophomore Kristian Hess from Chi Omega paint their sign for the Watermelon Bust at the Lambda Chi Alpha house Friday. Each sorority house created its own sign for the 'Most Spirited Team' contest.
Pi Beta Phi won the event, collecting 1,410 pounds of food and dominating in sign-painting and field events.
"It really brings the Greek community together," said Cary, an accounting and finance senior. "It's a good way to benefit the City of Tucson."
Saturday's events were hosted by KZPT, which also aided in promotion and collection of canned food during the week.
Bowman said that the radio station decided to get involved in order to gain listeners from its target audience, 18- to 35-year-olds, and to support the food bank.
"It's a perfect fit for the format of our station," Bowman said.
Lambda Chi Alpha president Mike Dinucci, an ecology and evolutionary biology senior, said he was pleased with the event's outcome.
"It's not as easy as it looks to organize," Dinucci said. "It's definitely a challenge, but I thought it went very well."
Lambda Chi Alpha's parent organization hopes to raise more than a million pounds of food by Nov. 1, Cary said.
"It (the amount collected this week) was a little lower than expected," he said. "But we're still going to be out there working."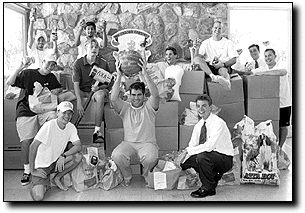 LEIGH-ANNE BROWN
Arizona Daily Wildcat
Members of Lambda Chi Alpha show off the collection of food hauled in by their annual Watermelon Bust food drive held last week. The fraternity weighed the food in at a total of 5,300 pounds.
The "Watermelon Bust," part of the North American Canned Food Drive, has been going on at the university for 13 years.
Bowman said UA Greeks plan to continue the tradition next year.
"We're going to do it again," he said. "This thing can be gigantic."
Erin Mahoney can be reached via e-mail at Erin.Mahoney@wildcat.arizona.edu.