Vigil memorializes slain student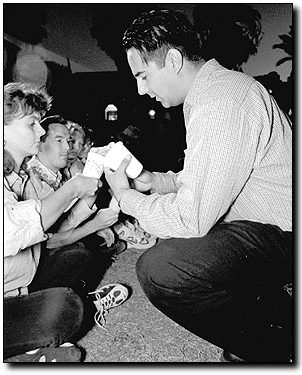 Aaron Wickenden
Arizona Daily Wildcat

Co-director of BGALA, Cecilio Dimas (right), lights the candle of geosciences graduate student Janett Kante at the vigil to honor the life of Matthew Shepard last night on the Mall. The vigil commemorated the life of Shepard, a gay student at the University of Wisconsin, who died Monday morning as the victim of a hate crime.


Hundreds of students gathered on the UA Mall last night to light candles honoring the life of Matthew Shepard, an openly gay University of Wyoming student who died Monday after being severely beaten.

"As we light these candles we affirm the love that exists among us as a community, even in light of unexplained, unexplainable violence," UApresents Director Ken Foster said to more than 300 listeners. "We do this in memory of all victims of gay bashing."

Shepard, 21, died at a Fort Collins, Colo., hospital nearly a week after two men hit him repeatedly with the butt of a .357 Magnum then bound him to a split-rail fence.

Shepard was in a coma until the time of his death. Doctors said they could not operate because his skull fractures were too extensive.

Shepard died Monday, National Coming Out Day, beginning Gay Awareness Week on a somber note.

"It's significant when anyone is murdered, but especially a gay man this week," communication and creative writing freshman Danny Clifford said at the vigil.

Shepard loved the theater and camping, had traveled around the world and was fluent in three languages, Foster said. Friends and family called Shepard a "champion of the underdog."

Web Extra: Three of last night's speakers via RealAudio broadcast.

---
"What we owe to Matt and his family is that something can be changed through his death," Foster said.

Several at the University of Arizona vigil held rainbow flags and signs, one of which read, "Jesus wept."

Although Shepard lived in Wyoming, his death affects everyone, Foster said.

"The fact that Shepard was a 21-year-old student is especially significant," he said. Foster said Shepard's age and status added a special "resonance and meaning" to the memorial.

"It's as though someone in our own community was murdered," Foster said.

Students wept and hugged one another as music played.

History freshman January Terry said it was important for America to take notice of such crimes.

"Hate is not something segregated to an area - it's everywhere, and this could happen to anyone," Terry said.

Undeclared sophomore Vivian Safrin said the vigil was just as important to het-erosexuals as it was to the gay community.

"Whether you're gay or not, it's injustice to mankind," Safrin said.

Karmen McQuitty, director of the UA's Bisexual, Gay, and Lesbian Association, said hate crimes can happen anywhere.

"The UA is a fairly tolerant community, but you still wonder what's lurking out there," said McQuitty, a political science and English studies senior. "I think it's important to show we support gay people everywhere."

As a bisexual, McQuitty said it meant a great deal to her that so many people attended the vigil to honor Shepard.

"We're still the minority, so it's good that it's being recognized," she said.

Some Arizona politicians attended the vigil, including Tucson Mayor George Miller and state Rep. Herschella Horton.

"We've taken a step in the right direction" as far as hate-crime legislation, but there is more to be done, said Horton, a Democrat. She called for a federal hate-crime law, saying "hatred eats and destroys people's lives."

Miller offered to meet with leaders of the gay community in an effort to "do more." He said examining gay issues and hate crime is important, but education must be more functional.

"I'm not talking about studying it," Miller said. "I want suggestions for working in the direction of stronger help."

A similar attack in Tucson about 25 years ago led to the passage of the city's hate-crime legislation, which increased penalties for crimes motivated by bigotry. UA student Richard Hechan was murdered while exiting a gay bar.

McQuitty said although the gay community is often ignored by politicians, the situation is improving.

"The more that we are out there and showing that there is a constituency, the more that they will respond to us," she said, adding that she is "skeptical but hopeful" about the progress toward gay rights.

"It's small steps until we're liberated," McQuitty said.

Jon Potter, president of Wingspan, a Tucson community center for gays, lesbians, bisexuals and transsexuals, said lawmakers need to support gay rights and hate-crime legislation to prevent more violence.

"We need to deter people who think they can use violence to express themselves," Potter said.

Although Arizona does have a hate-crime law, passed last year, there is room for improvement, Potter said.

"There are efforts we can make to change and enforce laws," he said. "This is the kind of thing that's got to be stopped."

Forty-one states have hate-crime laws, and of those, 21 specifically include crimes motivated by the victim's sexual orientation.

Foster said the legislation is important but that each community member must participate as many aren't aware such laws exist.

"The atmosphere has been created that would allow this to happen," he said, "And that is all of our responsibility."

Saundra Taylor, UA vice president of campus life, said indifference is "the greatest sin," adding that "not to do something about evil is to participate in the evil."

"We need to remember what we've learned from the Holocaust and the lynchings," Taylor said.

Foster said personal responsibility begins with speaking out for other people's rights.

"When we hear jokes and laugh it off, this encourages this sort of thing to happen," he said.

The Rev. John Hooker of St. Philip's in the Hills Episcopal Church brought a religious perspective to the ceremony, encouraging everyone to recognize gays rights in memory of Shepard.

Hooker encouraged people to pressure denominations to recognize gays as equals.

"Left to their own devices, every denomination in this country thinks that we (gays and lesbians) will go away if they just ignore us," he said.

Foster said the vigil was important, but that the message of acceptance must not be forgotten.

"Everybody needs to live this every moment of their life," he said.

Vigils and services are being held across the county in memory of Shepard. Funeral services are scheduled for today in his home town, Casper, Wyo.

Sarah A. Perry can be reached via e-mail at Sarah.A.Perry@wildcat.arizona.edu.