Wildcat soccer doesn't love L.A.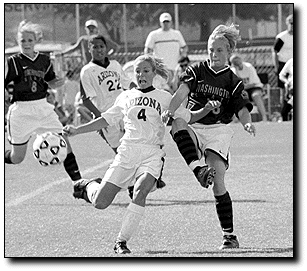 Nicholas A. Valenzuela
Arizona Daily Wildcat

Senior forward Nikki Jones (4) beats a Washington State player to the ball during an Oct. 25 game at Murphey Stadium. The Wildcats (3-10-2 overall, 0-6-1 Pacific 10 Conference) face the No. 5 Bruins (15-3-1, 5-2-0) tonight and the No. 6 Trojans (11-6-1, 5-2-0) Sunday in the last two games of the season.


Everyone wants to end on a high note and finish off with a bang. This will be the goal for the UA women's soccer team as it concludes its season with home games against UCLA and Southern Cal this weekend.

"I'm not excited to play the two toughest teams in the conference," senior forward Nikki Jones said. "Hopefully it'll be an upset. We need to go out and surprise these teams and get the win."

The Wildcats (3-10-2 overall, 0-6-1 Pacific 10 Conference) will face the stiff competition of two teams ranked in the NSCAA regional, the No. 5 Bruins (15-3-1, 5-2-0) today at 7 p.m. and No. 6 Trojans (11-6-1, 5-2-0) at 1 p.m. Sunday. Although there may be no strength in the numbers for UA this weekend, the team still has confidence in the games to come.

"Every game at home, we've played good soccer," assistant coach Jen Netherwood said. "And we'll try hard do that again this weekend."

The Wildcats currently have a 2-1-1 home record.

"Most importantly, this weekend we're just going to go out and play good soccer," Netherwood said. "Play how we know how to play."

The Bruins will be coming off a tight loss, 5-4, at USC last weekend. The player for the Wildcats to stop will be Staci Duncan, who leads the Bruins in scoring with nine goals and eight assists.

"We need to just want to play," Netherwood said. "We also really need to concentrate on keeping possession. And I know high on everyone's list is scoring some goals."

In order to score Sunday, the Wildcats will have to maneuver the ball past Trojan keeper senior Karin Puccinelli, who owns a 1.21 goals against average, with 68 saves and six solo shutouts.

"It'd be great to score or have an assist," Jones said. "I'm just going out there and giving it my all."

To keep the game spirits high, the Wildcats are remembering back to the series last year with the Bruins, the coaches said.

"Our game against UCLA last year," Netherwood said, "was the best game of the season."

Until the last four minutes of the game last year, the score remained tied at 1-1, with the Wildcats' lone goal by Jones, but in those last minutes the Bruins managed to notch the score up by one additional goal.

This weekend at Murphey Stadium, the Wildcats will try to avenge that loss, earn head coach Lisa Fraser her 100th career record win and satisfy some personal goals with which to end the season.

"For the team," senior defender Veronica Ramirez said. "Two wins would be nice."

"For myself ... I'm going to give it my all, and then some, cause this is going to be it," she added.

Kate Longworth can be reached via e-mail at Kate.Longworth@wildcat.arizona.edu.