Men's tennis swept in Pac-10 openers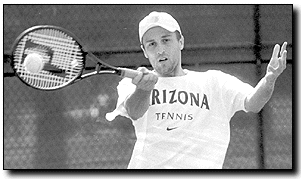 Nicholas Valenzuela
Arizona Daily Wildcat

UA senior Adnan Novo returns a ball during his match on Saturday afternoon against USC. Novo had the only win Saturday as Arizona fell to the Trojans 6-1.


The Arizona men's tennis team lost to No. 5 UCLA on Friday 6-1 and to No. 15 Southern Cal on Saturday 6-1 in their opening weekend of Pacific 10 Conference play.

In Friday's Pac-10 opener, UCLA won all three doubles matches and defeated Arizona in all but one of the singles events. UA freshman Caleb Marquardt was the only Wildcat to record a victory, with a 6-2, 6-2 victory over Jong-Min Lee. Saturday against USC, the Trojans were able to sweep the doubles matches after winning two very competitive matches 9-8 and 9-7. In the matchup of the two teams' No. 1 players, Wildcat senior Adnan Novo defeated Patrick Gottesleben 6-0, 2-6, 6-2 in the Wildcats' only win.

Arizona will host Utah at 1:30 p.m. Feb. 8 at the Robson Tennis Center.