Arizona back in hunt for Pac-10 title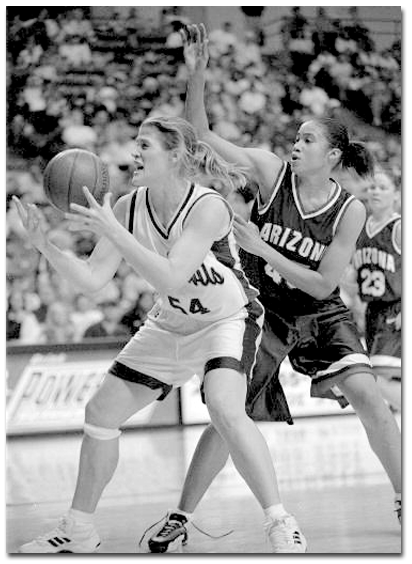 Associated Press
Arizona Daily Wildcat
UA sophomore Elizabeth Pickney tries to block a shot of a Sun Devil forward. Pickney and the Wildcats beat the rival ASU over the weekend.
TEMPE-The five UA seniors on the women's basketball team now carry the distinction of having never lost to Arizona State in their careers as Wildcats.
With a 72-61 win against the Sun Devils Saturday night, guards Felecity Willis, Lisa Griffith, and Monika Crank, and forwards Tatum Brown and Angela Lackey will leave Arizona having never lost to their in-state rival.
With the victory, the Wildcats extended their win-streak against the ASU to 14 consecutive games.
"To be able to beat them every year since I have been here, I think that is a great accomplishment individually and as far as the team goes," Willis said.
Arizona needed the victory against the Sun Devils to stay in contention for the Pacific 10 Conference title after being swept by UCLA and USC last weekend in Los Angeles. The Wildcats had fallen from first to fourth in the Pac-10 after the Los Angeles trip.
"We are right back in this (conference race) and if we play focused like we did tonight, we'll be competing for that title," Brown said.
Four Wildcats notched double-digit scoring for the Wildcats, who came back from a one-point halftime deficit to outscore the Sun Devils by 12 points in the second half.
Junior guard Reshea Bristol and Willis each had 17 points while Brown contributed 11 points and Lackey added 10.
The Wildcats offense never got in sync during the first half, scoring 27 points on 43.3 percent shooting while committing 14 turnovers.
Arizona head coach Joan Bonvicini told the team at halftime that by playing smarter basketball and making better decisions on the court, they could win the game, Willis said.
Following the break, Arizona exploded for 45 points on 57.1 percent shooting, most of which came from within a few feet of the basket.
"We knew what their pressure is like, basically in-your-face, just like USC and the only way to beat that is to drive," Willis said. "We stuck to the game plan, luckily we were able to capitalize off of it."
Their tendency to drive the lane instead of firing shots from outside resulted in UA missing all six attempts from behind the three-point line. The game broke the Wildcats' streak of 58 consecutive games with a three-point field goal.
That, however, did not concern Bonvicini as the team's defensive tenacity, which led to 17 steals and three blocks, made up for it, she said.
Following their victory, the Wildcats caught word that Oregon and UCLA - two teams they're chasing for the Pac-10 title - had just lost.
"We control our destiny, we just need to take care of business," Bonvicini said. "These next few weeks are going to be an exciting time for Arizona basketball."