Wildcats sweep No. 15 Tulane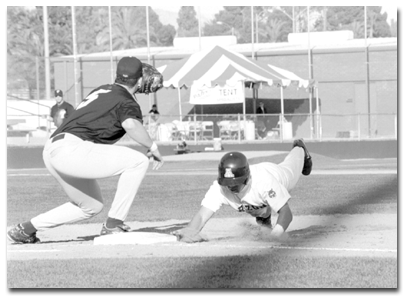 Casey Dexter
Arizona Daily Wildcat
UA shortstop Keoni DeRenne slids into first base. DeRenne and the Wildcats swept Tulane 19-7, 4-3 and 8-5 over the weekend.
For the first month of the season, members of the UA baseball program knew that it would only be a matter of time before the team came together and started winning.
Following a three-game sweep of No. 15 Tulane last weekend, that time appears to be now.
"We like to win always," UA head coach Jerry Stitt said. "but it's much better when we feel like we've played the game right."
The Wildcats played consistently for the first time all season, handing the Green Wave its first sweep since 1997.
UA won Friday and Saturday afternoon's contests on the shoulders of sophomore Ben Diggins.
In Friday's contest, the right-handed ace struck out a career-high 13 men en route to a 4-3 victory against Tulane.
In nine innings of work, Diggins allowed two earned runs on six hits. The complete-game victory was the second straight for the righty, who improved his season record to 4-0.
Diggins, who carried the team with his pitching on Friday, led the Wildcats with his bat on Saturday afternoon.
UA exploded for 15 runs in the first four innings of the ballgame as the Wildcats trounced the Green Wave, 17-6, at Sancet Field. Diggins homered twice and drove in five runs in the winning effort.
"Hitting-wise, I've felt good the whole year," Diggins said. "I just want to hit."
Diggins reached base in nine of his ten at-bats in the weekend series, driving in seven runs.
Yesterday's game marked the return of Wildcat left-handed pitcher Rob Shabansky, who made his first start since Jan. 21, 1999. The lefty missed the remainder of last season following reconstructive elbow surgery.
Shabansky, supported by a six-run third inning, won his first game of the season as the Wildcats defeated Tulane, 8-5.
Limited to 50 pitches for health reasons, the senior allowed two earned runs on four hits in three innings of work.
More importantly, Shabansky felt healthy in his return effort.
"I felt good," he said. "It was the first time in a while (I started). I was pretty excited."
The sweep was a much-needed shot in the arm for the Wildcats, who lost two of three games to Texas A&M last weekend.
"We're tired of playing .500 baseball," Shabansky said. "We have a chance to be a great team."