ASUA funds Nicaraguan trip for former SAS member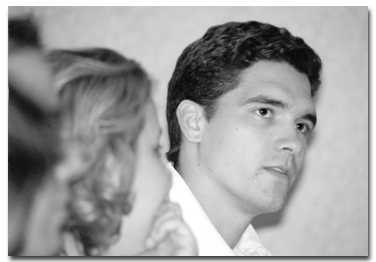 Arizona Daily Wildcat
Photo by: GAVIN STEVENS
Senator Ryan Roa debates with the ASUA Senate last night concerning funding to assist graduate student Arne Ekstrom's excursion to Nicaragua. Ekstrom will be investigating sweatshop labor related to manufacturing clothing found in the university bookstore.
After almost two hours of debate last night, the ASUA Senate decided to fund a Students Against Sweatshops graduate student's visit to Nicaraguan factories where UA apparel is made.
The Associated Students Appropriations Board approved on Monday to give neuroscience graduate student Arne Ekstrom $150 for the "research trip."
Last night, the Senate gave final approval on the grant, which was part of their consent agenda.
Ekstrom, former president of SAS, will travel to Nicaragua March 10 to 20. During the trip, he will visit factories charged with worker violations and talk with workers who make clothes sold in the U of A Bookstore.
Ekstom will be living with factory workers and meeting with factory managers.
"I can't say enough that the purpose (of the trip) is research," Ekstrom said.
Ekstrom said his report from the trip would be very objective, but he suspects to find problems within the factories.
"I wouldn't go to Nicaragua if I didn't expect to find a problem," he added.
Ekstrom plans to present the information he discovers on his trip to the student body.
"Our goal is to educate the university community and, hopefully, build a community that knows what's going on," he said.
Many senators debated whether the trip would be used for political or research purposes.
Sen. Ryan Roa reminded the senate that it was not ASUA's or the Appropriation Board's job to question how SAS will use the information.
Sen. Tiffany Podbielski added that "research" is supposed to be non-biased, and it would be insulting for the senate to think that Ekstrom was going to use the trip for political reasons.
"They (SAS) are going to look and the truth about what's going on," Podbielski said. "Again, it's not our job to suspect the use of this information."
Senators also said ASUA does not typically fund activities for graduate students.
Appropriations Board member Noah Knauf said if ASUA funded one research trip for a graduate student, dozens of requests would come up.
"We're a research one university," Knauf said. "If we want to open this door to fund research, we're going to have tons of requests."
Appropriations Board member Sara Ransom said she was in favor of funding Ekstom's trip.
"He's simply seeing how their way of life is," Ransom said. "There's nowhere in our bylaws that says we won't fund grad students. It's not against the law."
Sen. Dwight Maloney said the information Ekstrom would bring back to the university would be beneficial to everyone.
"They're just collecting information on whether people are overworked and the working conditions," Maloney said. "I think the information is beneficial to students."