Trojan War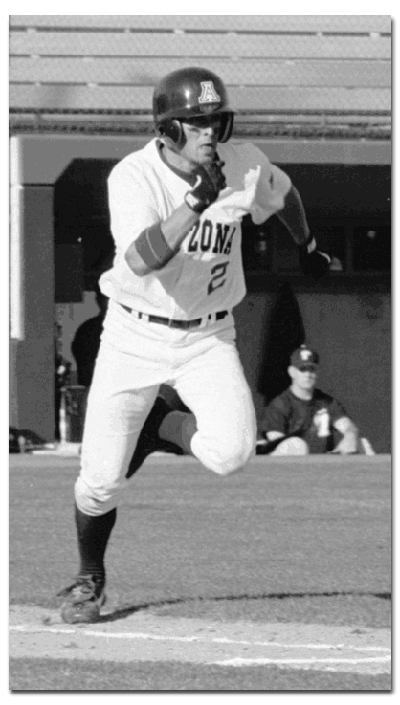 Casey Dexter
Arizona Daily Wildcat
Arizona senior outfielder Troy Gingrich runs to first base against Tulane on Feb. 25. The Wildcats take on USC in a three-game series starting today at Sancet Field and will be without sophomore outfielder Shelley Duncan due to an injury.
The UA baseball team has its work cut out for them, to put it lightly.
As if playing this weekend's three-game series against No. 16 Southern California wasn't challenging enough, the Wildcats will have to entertain the Trojans without arguably their best hitter, sophomore Shelley Duncan.
Furthermore, the Wildcats have failed to defeat the Trojans at Sancet Field in their last 16 tries, a streak that dates back to 1993.
Duncan, the team's everyday right fielder, injured his elbow while making a rare pitching appearance last weekend.
Monday, UA pitching coach Bill Kinneberg said that the injury was not serious. However, in an interview yesterday, Wildcat head coach Jerry Stitt revealed that Duncan will not play against the Trojans (20-9 overall, 3-0 Pacific 10 Conference).
"Shelley's not gonna play this weekend," he said, "We don't know right now, he has to see a doctor on Monday. We'll go from there."
Junior Ryan O'Donnell will replace Duncan in right field
"It's hard to replace Shelley," Stitt said. "But Ryan's a good player. He does a lot of things well."
Southern California will be a tough opponent for the Wildcats, with or without Duncan. Tonight, sophomore Ben Diggins (7-0, 2.63 ERA) will face off against Trojan sophomore Mark Prior.
Prior, a transfer from Vanderbilt, was the first-round pick of the New York Yankees out of high school. In his first season with the Trojans, the righty is 5-2 with a 2.42 ERA.
Diggins, named Baseball America's top collegiate prospect this week, is only the third Wildcat pitcher in the past 25 seasons to start the year 7-0.
Arizona(17-18, 2-4 Pac-10) will likely start seniors Rob Shabansky and Mike Crawford on Saturday and Sunday against USC's Rick Currier (6-2, 3.93 ERA) and Anthony Reyes (3-3, 4.38 ERA).
Despite a horrid start, Arizona's pitching staff seems to be hitting its stride.
Last weekend, the Wildcats took one game from No. 1 ranked Stanford in Palo Alto, Calif. Diggins allowed five runs and eight hits last Friday in seven innings in a 8-5 victory against the Cardinal.
According to Stitt, this weekend's fortunes will hinge on the ability of Wildcat pitchers.
"They're all competitors," he said, "They'll keep throwing strikes. The (pitchers) have done a lot better lately. They did great last weekend."
The Southern California series typically draws a large crowd to Sancet Field - whether or not it will bring a homefield advantage along with it has yet to be seen.
"You never know about the crowds here," Stitt said, "We'd definitely like to get a good crowd out for the series. I don't know whether its a homefield advantage or not, but we love playing at home."
Tonight's game begins at 7, while Saturday and Sunday's game's are at 1 p.m.