Poor serving sinks Wildcat volleyball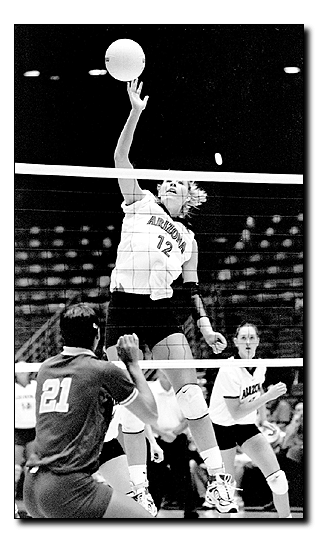 Joshua D. Trujillo
Arizona Daily Wildcat
Junior middle blocker Marissa DaLee spikes the ball during last night's match against USC. The Wildcats lost in four games, but DaLee hit .731 from the field, which is fifth best in UA history.
Looking closely at Arizona head coach David Rubio last night, one could almost see him having a flashback.
The UA women's volleyball team (12-6 overall, 6-4 Pacific 10 Conference) lost to USC last night by the score of 15-7, 15-9, 4-15 and 15-8 in a fashion that was eerily similar to last month's loss to Arizona State.
"The game of volleyball is reduced to an elementary level when a team fails to serve or pass," Rubio said. "We haven't had a night like this since we played ASU."
Similar to the ASU loss, UA was unable to serve, while most of the team's service mistakes seemed to come at clutch times for the Wildcats.
The Wildcats finished the match with 19 service errors on the night. Senior Raelene Elam led the Wildcats with four service errors as she hit only .242 from the field.
Rubio lists the team's inconsistency and poor serving as the culprits for UA's poor play.
"I'm going to go home and not sleep one wink tonight, trying to decide what happened," Rubio said. "There's no reason for this to happen. None."
UA lost game one by the score of 15-7 as the Wildcats logged in a .075 kill percentage, one of their worst such totals of the season. Freshman outside hitter Lisa Rutledge was 0-for-8 from the field with three errors and a -.375 kill percentage.
Game two wasn't any better, as the Wildcats mustered just nine points. UA surged to take game three, 15-4, as the Wildcats hit a collective .533 from the field, but ran out of gas and time as the Trojans took game four and the match, as serving errors once again haunted UA.
"The only thing you can do is have faith that we are a good team," Rubio said. "We just played terribly."
Rubio also said that the Wildcats' poor passing and serving may be due to the fact that they are afraid of the spotlight.
"Emotions and psychology play a big role when it comes to serving and passing," he said. "When the lights are on, it's a different ball game. We have great individual confidence, but as a team, we have major confidence problems. We pretend to be confident."
The Wildcats appeared to play with artificial fire last night, never seeming to come together on the floor.
The one bright spot for the Wildcats, however, was junior middle blocker Marisa DaLee, whose .731 kill percentage was fifth best in Wildcat history.
"We outhit them, we outblocked them and Marisa hit .731 from the field," Rubio said. "It's amazing that we couldn't win."
This loss couldn't have come at a worse time for the Wildcats as they host Pac-10 leader UCLA tonight in McKale Center at 7 p.m. The Bruins (18-1, 10-0) rolled past ASU last night by the score of 15-5, 15-11 and 15-6.
"The Bruins are a great team," Rubio said. "It will take a real gut-check tomorrow on our part."
Senior Raelene Elam hopes to put last night's match behind her.
"I'm going to go home and go to bed," Elam said. "When I wake up tomorrow, I'm focusing on UCLA. We need to put the USC match behind us."
The Wildcats chances against a dominant UCLA team will hinge on which UA team shows up to play.
"I don't know which team will show up tomorrow," Rubio said. "That's what's frustrating."
The Wildcats have shown shades of greatness throughout the young season, with victories over USC on the road and San Diego at home.
However, UA will have to go the rest of the way without the aid of junior defensive specialist Nicole McIntyre, who abruptly quit the team this week.
"Nicci decided to call it quits," Rubio said. "She wasn't playing much this year and decided that it wasn't worth the commitment."
McIntyre was the team's primary option at the defensive specialist position for the past two seasons.
Now McIntyre is gone and tonight's match will determine whether the Wildcats Pac-10 title chances have gone with her.