Women's basketball tips off season against Czech team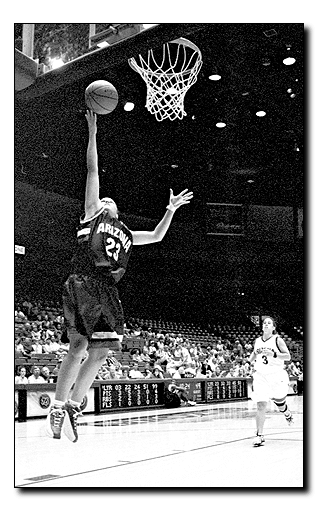 Wildcat File Photo
Arizona Daily Wildcat
Senior guard Felecity Willis (23) goes to the hoop for a layup during last Sunday's Red-Blue Game as senior guard Lisa Griffith looks on. The UA women's basketball team opens up their season tonight against SBC Prerov Czech Republic at McKale Center at 7 p.m.
For nearly a month, the UA women's basketball team has been through practice, scrimmages and conditioning workouts, but its only opponents have been members of their own team.
Tonight, Arizona's first chance to prove what they've accomplished comes from a squad that has traveled across the Atlantic Ocean to face them.
SBC Prerov Czechoslovakia is coming to Tucson this evening in McKale Center to face the Wildcats in an exhibition game at 7 p.m.
"We don't know much about this team, but that they are big and pretty experienced," head coach Joan Bonvicini said. "They are generally very good shooters, good passers, their post players will step out and shoot threes. The Czechs are not necessarily bangers like most American players, they are a little different."
Though the Wildcats are facing a team they have never seen before and are not clear of what to expect, they are excited about getting out to display the skills they've developed over the offseason.
"We have been practicing for three weeks now, and our only opponents have been ourselves," senior guard Felecity Willis said. "We want to jump into these games, as I think the team is very prepared and pumped up."
While Arizona is returning all of their players from last year's roster, while adding four more, Bonvicini said her starting lineup for the first game will differ from what UA fans witnessed last season.
Bonvicini said that senior Tatum Brown and sophomore Elizabeth Pickney will be running the post positions and Willis, senior Monika Crank and sophomore Julie Brase will be starting the game at the guard spots.
Senior guard Lisa Griffith and senior forward Angela Lackey were regular starters for the 1998-99 season, but for now will be coming off the bench for the Wildcats.
"This lineup is not set in stone," Bonvicini added. "It may change next week, the week after or just may not change at all. We have a lot of players of which I plan on giving playing time to."
Arizona players and coaches have spent a lot of time in this preseason discussing how much depth they have available in their lineup, but tonight marks the first time they can prove that notion.
"I am excited that I will be playing in the starting lineup, but if you don't come out strong, we have so much depth on this team that Coach Bonvicini will sub you quick," Brase said. "We have a lot of players on our team that can come out and make significant contributions."
Griffith agreed.
"I am excited to see how our team plays because we are very deep and so good," she said. "We have so many options to go to, and everyone is really pumped up to play."
According to the UA players, defense will be the key to winning this game.
"The foreigners love to pass, run the floor and their transition game is huge," Willis said. "So if we are able to shut that down, it'll be a big part of winning tomorrow."
Lackey also commented that defending the tall Czech players should be one of their main goals.
"We just need to come out and play hard, and do the things that Coach (Bonvicini) has emphasized in practice with our defense and boxing out," Lackey said. "Their height will be a challenge, but I think we're up for it."