UA soccer team looks to finish season on a good note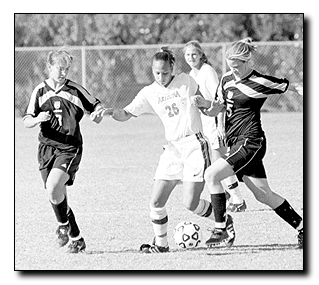 Wildcat File Photo
Arizona Daily Wildcat
Sophomore forward Kim McGehee battles for a ball in an earlier game this year. The UA soccer team closes out the season against the Oregon schools, beginning tonight at 7 against the Oregon State Beavers at Murphey Field.
As the UA women's soccer team prepares for its final weekend of the season, they know that their success or failure against Oregon State and Oregon will likely reflect their season as a whole.
"These last two games will determine if we have a decent season," junior forward Chrissy Sanford said. "We are going to try and finish out strong."
If the Wildcats (6-10-1 overall, 0-7-0 Pacific 10 Conference) are able to sweep the Oregon schools, they will tie 1997 squad for most victories in a season.
UA is also one goal away from setting a new school mark for most goals scored in a season. They currently have 26 goals.
Individually, Sanford is one goal and one assist away from tying the UA season records in goals scored and assists. Sanford has 10 goals and five assists so far this season.
Sanford and sophomore midfielder Tiffany Sabado (six goals and three assists) lead the Wildcats offensively against the Oregon schools.
"We want to win both games," sophomore forward Kim McGehee said. "They are going to be tough teams, they won't be easy."
The Beavers (8-9-1 overall, 1-6-0 Pac-10) appear to be vulnerable as they come to Tucson having lost six of their last seven games.
Oregon State is led offensively by freshman midfielder Katie Henderson, who has six goals and two assists, and sophomore forward BreeAnna Jolin, who has seven goals.
In goal for the Beavers will be junior Elizabeth Pease, who has made 55 saves and has a goals against average of 2.23.
A greater challenge to the Wildcats, though, will be Oregon, who upset No. 20 UCLA last weekend.
Junior defender Ann Giallonardo thinks UA is up to the challenge because "practice is going really well and everybody is really intense."
The Ducks (7-10-0 overall, 3-4-0 Pac-10) are a strong defensive team, led by senior goalkeeper Amanda Fox. She has recorded 77 saves, two shutouts and a goals against average of 1.48 this season.
Offensively, sophomore forward Chalise Baysa leads Oregon with eight goals and two assists.
This weekend's games hold a lot of meaning for the Wildcats, as they try to avoid being in the cellar of the Pac-10 for the second consecutive year.
"We definitely aren't a 10th place team," Giallonardo said.
The Wildcats will host Oregon State tonight at 7 and Oregon Sunday at 1:00 p.m..
The matches will take place at Murphey Stadium, located at 15th Street and Plumer Avenue.