Writer Vonnegut in critical condition after house fire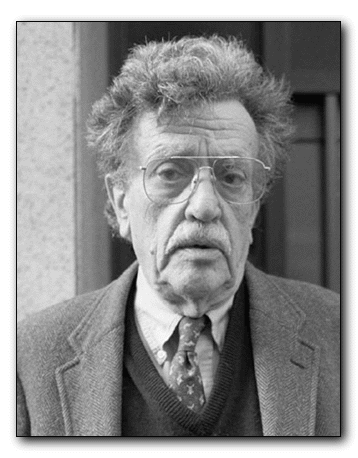 Associated Press
Arizona Daily Wildcat
Writer Kurt Vonnegut Jr. is shown in this 1997 file photo. Vonnegut, was hospitalized after suffering smoke inhalation in a fire at his Manhattan home.
Associated Press
NEW YORK-"Slaughterhouse-Five" novelist Kurt Vonnegut Jr. was in critical condition yesterday after a fire at his home.
Vonnegut, 77, suffered smoke inhalation Sunday night in a small blaze that broke out in the fourth-floor study of his East 48th Street brownstone. The author - known for satirical and darkly humorous novels - was home with his wife and daughter.
A fire department source who spoke on the condition of anonymity said the fire may have been caused by a cigarette left burning in the room.
Vonnegut was in critical but stable condition at New York Presbyterian Hospital.
The fire was reported at 7 p.m. Sunday and was brought under control in 20 minutes. It caused minor damage to one room.
Fire officials said Vonnegut had been watching the Super Bowl in his study and was downstairs when the fire erupted.
They credited a neighbor, Hans Von Stackelberg, with saving him, his wife, celebrity photographer Jill Krementz and their daughter, Lily, 17, from serious harm.
Von Stackelberg, acting head of the German Consulate in New York, said the real hero was his 17-year-old daughter Filippa, who called 911.
"All I did was rush out of the house like an idiot," he said.
None of Vonnegut's family knew of the fire at first. Von Stackelberg said Krementz was walking out the door when he rushed over, Vonnegut was on the ground floor, and Lily Vonnegut was in her bedroom.
Von Stackelberg and Vonnegut went to the study and tried to put out the fire. As the room filled with smoke, Von Stackelberg warned Vonnegut to leave.
"When he didn't come out of the room, I shouted to him, 'Mr. Vonnegut, you have to get out of there!'" Von Stackelberg said. "Maybe he was trying to collect some material. When he finally came out, I grabbed him by the hand and led him to the staircase."
Vonnegut has written 19 novels, including "Breakfast of Champions," "Cat's Cradle" and "Hocus Pocus." His last major work, "Timequake," was published in 1997.