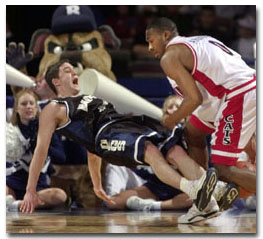 Associated Press
Butler guard Brandon Miller (left) falls backward after drawing an offensive foul on Arizona guard Gilbert Arenas during the first half of yesterday's NCAA second-round game yesterday in Kansas City, Mo.
By Ryan Finley
Arizona Daily Wildcat
KANSAS CITY, Mo. - It takes a killer instinct to win NCAA Tournament championships. UA head coach Lute Olson looked out on the floor yesterday and saw five Hannibal Lecters in white jerseys.
Arizona spat in the face of Cinderella yesterday afternoon, defeating an upstart Butler club 73-52 after leading by just four points at halftime. UA advanced to the Sweet 16 by playing on its strengths - size and depth - and exploiting the weaknesses of a club that had neither.
This isn't the UA team that lost to Stanford in January. This isn't even the team that beat USC by 44 points in mid-February.
This team is mean.
Arizona didn't substitute yesterday afternoon - it reloaded. Substitute forwards Luke Walton, Eugene Edgerson and Justin Wessel combined for 12 points, 17 rebounds and three blocks in the win.
"It seemed like every time the horn sounded, they were substituting another player," Butler head coach Thad Matta said. "It was 6 (foot) 9 for 6 (foot) 9. They're a different team than we played in December. They just kept coming at you. That's a mark of a great team, and Arizona's a great team."
Things didn't start as well as they ended for UA, which advanced to the round of 16 for the first time since 1998, when the defending national champion Wildcats lost to Utah in the Elite Eight.
The Bulldogs led throughout most of the first half before an 15-4 Arizona run took the Wildcats into halftime with a four-point edge.
And then it happened.
Sometime during the break, the Wildcats decided they wanted to advance to the next round. Like a prize fighter jabbing at his opponent's bruised body, UA found Butler's weaknesses and exploited them.
They knew what they had to do to win, and they did it. UA played stifling defense, got rebounds and hit clutch free-throws during the second half to pull away with a dominant win.
"Once you start to see fear in someone's eyes, you really want to jump on them," said junior forward Richard Jefferson, who had eight points and three rebounds.
"That's what people call the killer instinct. I think that is something that we lacked last year - we would get up on teams, and then we wouldn't put them away. This team does accomplish that now."
The Wildcats' defense held Butler at 36 points for nearly seven minutes midway through the second half.
Anyone who has ever had to suffer through the final minutes of a game knows that seven minutes is slightly less than an eternity in basketball.
During that stretch, seven UA players combined to score 15 points as the Bulldogs found themselves unable to make a basket.
According to Olson, the team's defense helped to slowly dissolve the Bulldogs' once-potent offensive attack. After shooting 45 percent from the field in the first half, Butler shot 33.3 percent in the game's final period.
"I don't think there's any question that we wore them down," he said after the game. "If your legs are not quite the same, your three-point shot is not quite the same."
Jefferson and sophomore guard Gilbert Arenas' tenacious defense of Butler's Brandon Miller and LaVall Jordan managed to suffocate BU's trigger-happy offensive sets.
The more shots the Bulldogs missed, the more frustrated they appeared to get. A tired Butler defense proceeded to foul the Wildcats 18 times during the game.
Arizona responded by hitting 17 of 18 free-throws, a blistering 94 percent.
The Wildcats' feat was the third-best performance in Midwest Regional history and set an Arizona NCAA Tournament single-game free-throw percentage record.
Almost as impressive as the Wildcats' free-throw shooting was their rebounding. Clearly taller and more muscular than the finesse-oriented Bulldogs, UA managed to get 39 rebounds to Butler's 20.
"(Inside play) is the backbone of the team," Edgerson said. "We have two dominant players (Woods and Michael Wright) in the post. They are two different players, but they are as terrific as anyone in the nation."
As a fan, it was hard to root for the Wildcats yesterday. They used their brute size and force to squeeze the life out of Butler, who was too tired and weak to defend themselves.
The Wildcats made a hard-working, small-time school think they had a chance for a half only to crush them in the final 20 minutes.
It wasn't nice, but that attitude wins championships. Hannibal himself would be proud.