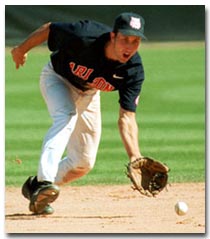 MIKE LARSON
Junior shortstop Brad Hassey fields a ground ball during yesterday's UA victory over Southern Utah at Sancet Field. The Wildcats went 5-2 during Spring Break, including two conference wins against No. 23 UCLA.
By Jeff Lund
Arizona Daily Wildcat
Arizona also takes 2 of 3 from UCLA during Spring Break
Heading into the bulk of its Pacific 10 Conference schedule later this month, the Arizona baseball team got just what it needed this weekend - a three-game sweep.
Led by a dominant weekend from senior Ernie Durazo, the Wildcats (19-12 overall, 2-1 Pac-10) took three games from Southern Utah at Sancet Field, including yesterday's 12-6 win.
Arizona jumped on the Thunderbirds early yesterday, scoring nine runs in the second inning to jump out to an early 9-2 lead. Southern Utah rallied by scoring the game's next four runs, but Arizona tacked on four more to secure the win.
"It was good to see a big inning like we had in the second," said junior Kenny Huff, who went 2 for 4 with two runs scored and two RBIs. "It has been a while since we have had an inning like that."
Durazo, who went 3 for 5 yesterday and finished the weekend 9 for 13 with nine RBIs, said he wasn't worried about the Thunderbirds rallying.
"I knew our sticks would come through," he said.
Other standouts from yesterday's game included Erik Torres (2 for 5, two RBIs) and Matt Abram (2 for 5, two runs scored, two RBIs).
Even though the weekend sweep was important for the team, it was not as critical as last weekend's three-game series against conference foe UCLA.
Looking to get off to a quick start in Pac-10 play, the Wildcats went to Los Angeles and took two of three from the No. 23 Bruins.
The Wildcats lost the first game of the series, 3-2, but rallied to take the final games, 6-4 and 9-6.
Freshmen Sean Rierson and Joe Little earned the wins for Arizona. Rierson (3-2) also picked up the victory in Saturday's game.
About the only disappointment to come from the UCLA series was that Durazo's school-record 28-game hitting streak came to an end.
Up next for Arizona is a three-game home series this weekend against No. 13 USC, a team the Wildcats should have no trouble getting pumped up to play.
"If you can't get up for a Pac-10 game, then you don't have a pulse," Durazo said.