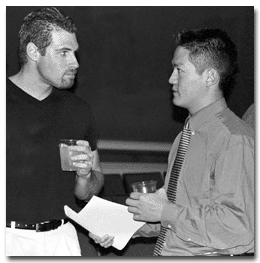 JONATHAN V. PORCELLI
Jason Auxier (left), an optical sciences graduate student and Gradute and Professional Student Council president, talks with ASUA Executive Vice President-elect Sam Chang about recent tuition-increase proposals. The increases would affect both in-state and out-of-state UA students.
By Katie Clark
Arizona Daily Wildcat
Students who came to last night's tuition forum and members of the Arizona Students Association feel the same as far as priorities for the money's use, an ASA director said.
"Oddly enough, everyone, including (UA) President (Peter) Likins, is on the same page," said Ray Quintero, ASA co-director.
About 20 students attended the forum to voice their opinions to ASA about where their tuition dollars go.
The forum was organized in response to Likins' $200 and $500 recommendations for tuition increases for in-state and out-of-state students, respectively.
ASA directors were joined by Ben Graff, president of the Associated Students of the University of Arizona, and Christine Thompson, former Arizona Board of Regents student regent.
Quintero also said he was glad to see the students had similar opinions on where they wanted their tuition dollars to go.
"It was good to see that all of the students had the same concerns," he said.
Likins outlined six priorities in his recommendation, including more money for information technology, advising and mentoring programs, graduate teaching assistant support, faculty and staff salaries, financial aid, and debt service for academic facilities.
While students for the most part agreed with the priorities set forth by Likins, some did have some concerns about where exactly the money would be going.
One of the main concerns voiced by students was the amount of tuition used for debt service on academic buildings, something Graff said he didn't believe students should have to pay for.
About 25 percent of each student's tuition fees go toward repaying debts incurred by the university for building of and maintenance on academic buildings, said Thompson, a third-year student at the James E. Rogers College of Law.
Another concern was the increase for out-of-state students, which some students at the forum said they felt was excessive.
Gloria Macias, a political science sophomore and ASUA Senator-elect, is an out-of-state student and said she believes that the increases should be more equal.
"Tuition for in-state students is so low," she said. "Right now, I pay the same amount in tuition that I would be paying if I went to a private university.
"We need to have something to even it out."
Some students at the meeting were concerned about the amount of money going to information technology, since funding from Proposition 301 is geared toward it as well.
"That's an awesome argument," Graff said. "It's definitely something we'll look into."
"It will target areas not funded by 301," added ASA co-director Kelly Dalton.
"And the funds would hopefully be re-distributed if it wasn't needed," Quintero said.
Students were enthusiastic, though, to see that advising was one of Likins' priorities.
"I would place advising at the highest priority," said Josh Maxwell, also a political science sophomore and ASUA Senator-elect.
"Students wouldn't mind seeing an increase if it went to advising," he added, and said he got student feedback about the issue before the forum.
Maxwell said that it was a shame that tuition had to increase, but thought that the increase was reasonable.
"People come from all over the country to go here because tuition is so low," he said.