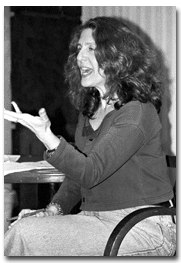 JONATHAN V. PORCELLI
Nationally-recognized sex educator Merryl Sloane answers questions last night at Coronado Residence Hall. The forum, open to all students, was sponsored by ASUA's Women's Resource Center.
Arizona Daily Wildcat
Communication and self-exploration are important steps in the sexual process, a sex educator said last night.
"Find out for yourself - masturbate," said Merryl Sloane, a Tucson sex educator. "Practice, practice, practice."
Sloane spoke to a group of about 10 University of Arizona students attending the workshop in the Coronado Residence Hall Estrella lounge. The event was sponsored by the Associated Students Women's Resource Center.
Sloane also said negotiation, experimentation, evaluation and returning again to self-exploration are part of the six steps one must take to improve sexual experiences.
"Listen as if someone was giving you the instruction manual to their body," she said.
"Every time you go through the six steps, you improve," Sloane added. "I guarantee your sex life will be better."
Sloane has been a sex educator in Tucson for the past nine years. She teaches weekly classes at the Tucson Convention Center.
Sloane emphasized the idea that many people have been brought up to believe sex and masturbation are a bad thing.
"Once we start acknowledging that we're sexual beings we can realize it's always OK to say 'yes' or 'no,'" Sloane said. "This is a powerful way to relate and be intimate with someone."
To different people, sex can mean anything from intercourse to making out in the front seat of a truck for hours, and it is important to distinguish what sex means to people and their partners and friends, Sloane said.
"You get to decide for yourself," she added. "You can not assume what anybody means when they say they're having sex."
Self-exploration, the first step of six, teaches people how their bodies will respond to different stimuli. It is necessary to learn what turns a person on first, then he or she can teach other people to turn him or her on.
Sloane said people who have successful partners in sex all masturbate, though many are not open with their partners about it.
"I challenge you to spend as much time exploring your sexuality as you do watching TV," she said. "Play, have fun."
She added that it's important for people to be open to their own ideas - try not to censor themselves.
Straight men usually cannot think about their nipples or anus because these body parts are sometimes associated with things that are "gay" or "faggoty," she said.
Regardless, these body parts belong to men, and they should not be shunned, she said. Men's nipples are just as sensitive as women's, but most men won't let women touch them, Sloane said.
"It puts you in a box," she added. "It says stay here."
Step three is negotiation - both partners need to decide what each wants to do and then come to an agreement.
Consent is a major factor in negotiation - both parties need to agree. The moment one person says "no" the negotiation is off, Sloane said.
Experimentation follows as step number four and is the time to try different sexual activities to discover what is the best for both partners.
"We coach each other," Sloane said. "The point is for us to have a good time."
Next come steps five and six, evaluation and then back to the beginning again - self-exploration.
Evaluation is the feedback session, and the opportunity to decide what worked and what didn't. Sloane stressed the need to give and receive information without attacking or criticizing a partner.
"This is the time to hone your performance," she said.
Sloane said her six-step process should be continuously repeated, as it will only improve sexual performance and happiness.
"I think if everyone was having incredible sex, who would have time to start wars?" Sloane said.