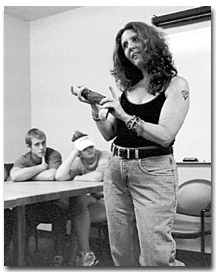 AARON FARNSWORTH
"Who wouldn't think this is sexy?' sex educator Merryl Sloane said about the use of toys during intercourse last night in the Memorial Student Union. Sloane led a sex workshop held in Louie's Lower Level sponsored by the Women's Resource Center.
Arizona Daily Wildcat
ASUA-funded workshop teaches students methods,
While some of UA's largest benefactors checked into hotels and prepared for Campaign Arizona's launch, some students were on campus working on a different type of project.
Condom wrappers, half-empty bottles of lubricant and latex gloves piled up in the corner of the room.
Everyone left satisfied.
About 50 students attended a workshop last night sponsored by the University of Arizona Women's Resource Center and the Associated Students last night to learn about great sex.
"A majority of students are not speaking up for themselves," said Kate Schroll, co-director of the Women's Resource Center. "They need to be more intimate about voicing their desires."
Merryl Sloane, the workshop's leader and a sex educator since 1992, described herself as a "tour guide, whose mission in life is to help you have the greatest sex you could possibly imagine."
Sloane stressed maintaining confidentiality and not making judgments about others during the discussion.
"No one teaches you how to have great sex," she said. "You know the plumbing but not the joy, creativity and artistic expression."
Though the workshop was sponsored by ASUA, no one from the group attended the event because most of them were at the rehearsal for Campaign Arizona festivities.
"Honestly, I had no idea it was that graphic," said ASUA Sen. Kristel Miller. "But as we represent students, who are we to judge what is appropriate?"
Since the workshop received a good turnout and no students expressed disgust, Miller said the sponsorship was justified.
"It's a little controversial but we at college campuses are notoriously pretty liberal," she said.
Students asked about better sex techniques, how to keep a long-term relationship active, sexual politics and safer sex practices.
"You need to put a lot of time into making sex great," said Andrew Walker, an undeclared freshman. "Being with one partner allows you to learn what the other one likes."
To make sexual discovery easier for young people, Sloane suggested a six-step program.
People must first know themselves before the second step of communicating with others.
"Nothing is lost by being open," Sloane said. "Respect yourself and others because you deserve it."
Partners should then negotiate and express their desires, and while having sex, feel free to experiment, Sloane said.
"Your body is your body and all of it is fair game," she said. "Being honest about your desires is the fastest way to have them met."
Finally, Sloane said, people should get together following sex to discuss what happened. Giving evaluation and getting feedback allows couples a chance to work on their performance in the future, she said.
"All of us want to be better," she said.