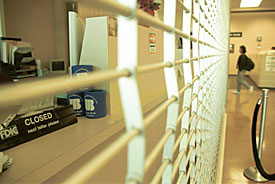 ERIC M. JUKELEVICS/Arizona Daily Wildcat

Union Bank, located in the Student Union Memorial Center, will close permanently on May 20 due to low business. All accounts will be transferred to the bank's headquarters in Gilbert, Ariz.

By Marc Viscardi
Arizona Daily Wildcat
Friday Feb. 22, 2002

Lack of activity within campus branch warrants bank closure

The Union Bank of Arizona, located in the Student Union Memorial Center, announced it will close its UA branch at the end of the semester due to low business.

Dan Dunlap, President of the Union Bank of Arizona, said that the bank's closing is a direct result of the low activity of student and staff accounts.

"The amount of activity in the student union branch just does not warrant a staffed branch," he said. "The majority of our customers use their Cat Card for ATM access or for point-of-sale transactions as a debit card."

Dunlap said that there has really been no decline in bank usage because business never got to a level where things could decline.

The branch will close on May 20, but holders will be able to use their cards for debit and point-of-sale purchases until June 1.

All accounts still open at the campus branch of Union Bank at closing will be automatically transferred to the main office, located in Gilbert.

CatCard holders who use their cards for debit will need to obtain a Union Bank of Arizona debit card in order to access funds electronically.

Currently holders can only use their CatCards on campus, but after the switch, they will be able to use the Union Bank card at all Wells Fargo ATMs without paying a fee, Dunlap said.

Customers will continue to be able to access their account via the Internet or the phone.

Dunlap said the bank was a service that the students and staff did not necessarily need on campus.

"The concept of the CatCard was very exciting," Dunlap said. "We just didn't have the volume to justify a full branch."

Jenny Swigoda, a freshman art history major and account holder with Union Bank, is upset at the closing of the campus branch.

"My main problem with the closing is the fact that it was so convenient," she said. " That is why the bank was brought to the union in the first place - for that added convenience. For students without cars, (the closing) poses a real problem."

Union officials were not available for comment yesterday afternoon.

Dunlap said he could not release specific numbers on how many accounts would be impacted.