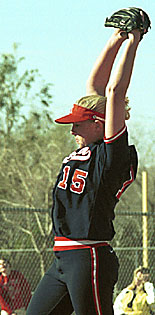 KEVIN KLAUS/Arizona Daily Wildcat

Senior Jennie Finch winds up for a pitch Feb. 20 against UMass. With a 0.52 ERA in eight victories this season, Finch is looking to surpass the NCAA all-time record this weekend in the Worth Wildcat Invitational.

By Dan Komyati
Arizona Daily Wildcat
Friday Feb. 22, 2002

Cats look to build on 52-game home winning streak

The Wildcats will play host to their second of three consecutive tournaments this weekend with the Worth Wildcat Invitational at Rita Hillenbrand Memorial Stadium.

Arizona (12-2) will face Eastern Michigan (0-0) and San Jose State today, while Drake (0-4) and Northern Iowa (5-1) will challenge the Wildcats tomorrow.

UA finishes the weekend with a matchup Sunday against Cal State Northridge (7-7).

After sweeping last weekend's Arizona Pepsi Classic, head coach Mike Candrea said his team needs to continue to improve and minimize its mental mistakes.

"Last weekend the kids responded," Candrea said. "But that's only one week, we have to come out (this weekend) and do the same thing."

With a flawless defensive effort and four consecutive shutouts a week ago, the youthful Wildcats showed a flash of their potential.

They will look to maintain their focus during the Invitational against relatively unknown competition.

"I don't know a lot about the field," said Candrea, whose Wildcats will face several programs for the first time. "It will be a matter of us taking care of ourselves, eliminating mistakes and having quality at-bats."

While UA's pitching has been dominant of late, there have been periods in which the bats have fallen silent.

The Wildcats are hitting at a .320 clip as a team this season, but more impressively, their opponents have been held to a .130 average.

UA pitchers have only allowed six runs all season during the final three innings of games .

With a 0.52 ERA in eight victories this season, senior pitcher Jennie Finch extended her winning streak to 48 games last Sunday.

Three more consecutive victories, and the All-American will surpass the NCAA all-time record.

While that chance may come this weekend, Finch is more concerned with continuing to build on the efforts of last weekend.

"We need to keep taking steps forward and moving ahead and getting better," Finch said of the Wildcats third 5-game weekend in a row.

It always helps when the Wildcats are playing at Hillenbrand.

They will look to extend a 52-game home winning streak when they take to the field at 3 p.m. today.