By Lindsey Manroel
Arizona Daily Wildcat
Friday Feb. 22, 2002

Women's hoops close season in showdown with ASU

Tomorrow afternoon, season records will be pushed aside, who won the last contest will be unimportant, and the series record will become a thing of the past.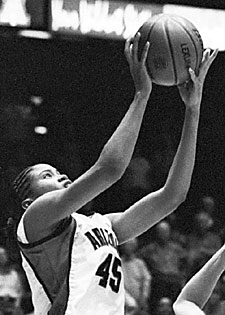 KEVIN KLAUS/Arizona Daily Wildcat
UA senior forward Elizabeth Pickney shoots a jumper last week in McKale Center. Pickney and the Wildcats face ASU Saturday in the regular-season finale.
All that matters for the Arizona women's basketball team is defending their court in McKale Center tomorrow against rival Arizona State.
"This is about rivalry and respect," UA head coach Joan Bonvicini said. "All records go out the window, and it's about beating ASU."
The Wildcats (13-13, 9-8 Pacific 10 Conference) are aware that more than dignity is at stake in the closing game of their regular season.
That's because if UA defeats the Sun Devils and Oregon loses to Washington, the Wildcats will be able to move up one spot in the Pac-10 standings to sixth place to enter the conference tournament, Bonvicini said.
"A lot needs to go our way," she said. "We need to play better than we did (against USC). "
For Arizona, the Pac-10 tournament seed and pride are on the line, increasing the pressure that rides on its season closer.
"There's a lot more pressure because we want to go into the tournament in sixth place so we don't have to play four games," freshman guard Dee-Dee Wheeler said. "Plus, we really want to beat ASU."
Bonvicini will stick to what she has emphasized all season: attacking on defense, moving the ball on offense and crashing both the offensive and defensive rebounds.
"We're just fine-tuning what we've always been doing," Bonvicini said. "We're working on our defense and running on offense."
Senior forward Elizabeth Pickney and center LaKeisha Taylor will make their last regular-season starts in a Wildcat uniform. Both will be expected to help lead UA over ASU.
Pickney has played the role of Arizona's most dominant player by leading the team in both points scored and rebounds grabbed per game.
She is averaging 16.8 points and 8.1 rebounds.
Taylor is UA's fourth leading scorer, currently contributing 9.7 points while grabbing 5.7 boards per game.
The Sun Devils (21-7, 12-5 Pac-10) have claimed a second-place Pac-10 position.
After winning five of their last six games, including a sweep over the Los Angeles teams, ASU has relied heavily upon senior guard Amanda Levens, who leads the Sun Devils in scoring by averaging 17.1 points per game.
She is followed by senior center Melody Johnson with 12.1 points per game. Johnson leads the Sun Devils in rebounds with 6.5 boards per game.
Bonvicini said she is focusing on upsetting the Sun Devils and putting a successful close to a mediocre season.
The Wildcats tip off at 2 p.m. tomorrow in McKale Center.