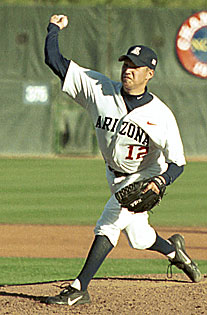 file photo/Arizona Daily Wildcat

Sophomore UA pitcher Sean Rierson delivers a pitch earlier this season at Sancet Field. The Wildcats hope to rebound from a three-game losing streak this weekend against UC Irvine.

By David Stevenson
Arizona Daily Wildcat
Friday Feb. 22, 2002

Arizona went to Texas last week boasting a national ranking for the first time in two years after having won 11 of its first 12 games of the season.

They returned on a three-game losing streak and dropped out of the poll.

Today, the Wildcats will try to snap the skid against the University of California Irvine in the opener of a three-game series.

After the designated off day Monday, UA returned to practice in a somber but businesslike mood.

"You can expect that type of atmosphere when you come off of a bad week like that," sophomore pitcher Sean Rierson said. "It left a bad feeling in our stomachs."

UA sophomore pitcher Chris Goodman said he thought they didn't do certain things they were capable of doing.

"The things we rely on - pitching, defense and timely hitting - weren't there. It was uncharacteristic for us to not execute them," Goodman said.

The Anteaters (8-5) come into Tucson on their first road trip of the year having won seven out of their last eight.

UCI catcher Chris Miller enters the game with a five-game hit streak and four hits in his last eight at-bats.

Anteater pitcher Sean Tracey is 2-1 with a 2.08 ERA in four starts and will most likely start today.

The Wildcats are ready to exploit their newly learned lessons from the dismal weekend in Texas.

"We want to play our style of baseball by controlling the tempo of the game, put the ball in play and stop making errors," Rierson said.

The Wildcats cannot rely on their hitting alone with a .248 team batting average this season. Instead, they must focus on their strong points, such as defense (.966 team fielding percentage) and pitching (2.91 staff ERA).

"A lot of games we must rely on pitching, so it brings our pitchers on a new level knowing that we have to pitch well," Goodman said.

Head coach Andy Lopez needs two wins in this series to reach 700 wins over his 19-year career.

Rierson (3-1, 1.80) will make his fifth start for the Wildcats today while sophomore Joe Little (3-1, 3.86) will start tomorrow. Sunday, sophomore Marc Kaiser (2-0, 3.15) will take the mound to close out the series.

Today's game starts at 3 p.m. while tomorrow and Sunday's games start at 1 p.m., all at Sancet Field.