By Dan Komyati
Arizona Daily Wildcat
Friday Feb. 22, 2002

They came to Arizona for that rare combination of beautiful weather and ice hockey.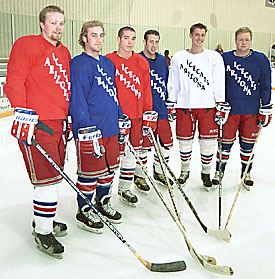 DAVID HARDEN/Arizona Daily Wildcat
Seniors, from left to right, Pavel Jandura, Kyle Neary, Dave Galardini, Kevin Meehan, Tom Wood and John Saunders will play their last game as Icecats this weekend against Arizona State.
Tonight, six Icecats seniors - defensemen Dave Galardini, John Saunders, Pavel Jandura and Tom Wood, and forwards Kevin Meehan and Kyle Neary - will begin their final weekend of playing in front of some the university's most loyal fans. Not to mention some of the nation's rowdiest ice hockey fans.
The "Madhouse on Main Street" will be packed for the last times this season when bitter rival Arizona State comes to the Tucson Convention Center for a two-game series this weekend.
The puck drops tonight and Saturday night at 7:30.
About 7,500 Icecat fans will fill the arena each night for the highly anticipated matchups. But not everyone in the building this weekend will be glad the season finale has arrived.
"It'll be sad; I'm not looking forward to it," said Galardini, who serves as co-captain along with Meehan and Neary. "But, it should be a good time because it's against ASU and my whole family is coming."
Galardini has helped anchor one of the Icecats' season-long strengths - a defensive unit that features four of its upperclassmen.
With a roster that includes 14 freshmen, the words "rebuilding" and "inexperienced" were thrown in the Icecats' direction all season long.
Twenty wins and a 19th consecutive national tournament berth later, most of UA's critics have been silenced.
Head coach Leo Golembiewski said to look no farther than his six elder statesmen to realize why his program kept on rolling this season.
"I don't think a lot of people gave us a snowball's chance in heck of having a 20-win season or going to nationals and they've accomplished both," Golembiewski said. "A lot of it has to do with the desire that (the seniors) have shown."
While work ethic and determination capture the essence of this senior class, several of the four-year players will leave their statistical marks on the program as well.
Czech import Jandura became the Icecats' all-time leading scorer among defensemen this season and has collected 54 goals and 95 assists in his career. His last 13 goals this season came after his move to up to left wing nine games ago and showed his immense versatility.
"Pavy obviously has been our greatest offensive defenseman of all-time," Golembiewski said. "And because we have had such strong play from Saunders and Galardini - and Wood has been coming on - I was able to move Pavel up and he responded."
Also responding from an offensive standpoint this season has been Neary.
After the Icecats graduated one of their greatest offensive classes a year ago, the Philadelphia native emerged from the shadows to lead the team with 34 goals.
He has a chance of cracking the Icecats' top 20 scorers of all time with 84 goals and 73 assists entering the final home weekend.
The co-captain remembers when he heard about the Icecat following in Tucson - and not believing it.
"It definitely was not what I expected," said Neary of the overwhelming support from within the "Madhouse."
With six relatives - including his parents - flying in for the weekend, Neary hopes to add a few more goals to his totals and earn two more victories against ASU.
"It will definitely be interesting going out there for my last game," he added.
The final series will also allow the TCC crowd to welcome back a familiar name in Icecat history.
After knee surgery kept him out of the team's last 11 contests, Kevin Meehan will see his first action since the beginning of January.
While his older brother, Brian, is an assistant coach and his younger brother, Mickey, is a freshman forward, Kevin's return could not have come at a better time.
"It'll be crazy, (this series) is always crazy," Kevin Meehan said. "It'll be a big two games to get ready for nationals. I just want to go 2-0 and beat them pretty good."
The Icecats (20-4-1) have managed to beat a lot of teams pretty badly this season and Golembiewski could not be any prouder of the example set by his small group of seniors.
From Saunders quarterbacking the blueline, to Galardini's physical presence, everyone has fit into their role perfectly.
The fact that they were counted out before the season even began has made the results that much more satisfying for the team's head coach.
"They had more to prove than any group of seniors before them, and that's what makes it so cool," Golembiewski said. "Through hard work and effort, they have put together a very solid season."