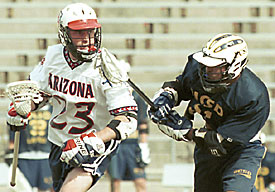 ERIC M. JUKELEVICS/Arizona Daily Wildcat

A Laxcat surveys the field during a game against UCSD last week. The UA lacrosse team travels to Los Angeles this

By Charles Renning
Arizona Daily Wildcat
Friday Feb. 22, 2002

The Laxcats make a crucial trip to the Los Angeles area this weekend to play three different conference opponents. All three games could have a bearing on the Laxcats' playoff chances later in the season.

Today, UA will face off against Chapman University, who was the 2001 West Coast Lacrosse League Division 2 champion. However, the Panthers are struggling a bit this season with a 0-4 overall record and a 0-3 conference mark. The Laxcats beat Chapman last season 18-2 at Laxcats Field.

UA will battle Loyola Marymount University tomorrow. The Lions (2-1,2-1) are coming off conference wins over Arizona State and Chapman in early February. The Laxcats handed LMU a 21-2 pounding last season.

On Sunday, the Laxcats will close out their road trip with a game against UCLA (2-3,1-0), whom they beat last season 16-5.

Senior goalie Greg Parkington said the team is looking forward to the road trip.

"We like the fact that we can get out of Tucson and just focus on lacrosse," Parkington said. "There are no classes to worry about, no homework, no friends - just lacrosse."

The Laxcats are coming off two wins last weekend against the University of San Diego and the University of California-San Diego and are looking to continue their winning ways this weekend.

"We need to slow the ball down and stay disciplined," Parkington said. "We know what we need to do; we just need to do it."

The Laxcats will return home Wednesday to play Michigan at Laxcats field at 7 p.m.