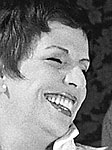 Albita Rodriguez
Cuban Singer

By Carrie Stern
Arizona Daily Wildcat
Friday Feb. 22, 2002

Son. Punto guajiro. Guaguanco.

If these words mean nothing to you, mark the calendar for when the award-winning Cuban singer Albita Rodriguez will bring the emotion of these styles of native island music to Centennial Hall tomorrow night at 8 as part of UApresents' Cultural Crossroads Festival.

Rodriguez, who goes simply by Albita, composes and sings her own works in the native genres of Son, Punto guajiro and Guaguanco, which sound like a blend of salsa and conga music.

The singer's second CD release, Dicen Que, was nominated for a Grammy award in the Best Tropical Album category in 2000. The following year, she received another Grammy nomination for her album Una Mujer Como Yo.

Her music has been featured in the films "The Specialist" and "Dance With Me," and she performed at the inaugural ball for President Bill Clinton.

Albita's latest release, Son, was influenced by her memories of Cuba.

"Son is the music that nurtures me, the motor that pushes me forward," she said in a press release. "Son is also a lot of sabor (taste), lots of rhythm, lots of energy, happiness, because people in Cuba always had fun in all times throughout history, regardless of external factors."

There will be a free Arts Encounter in Room 100 of the Social Sciences building 45 minutes prior to the performance's beginning. Maria Teresa Velez, associate dean of the graduate college, will lead the discussion.

Velez is Cuban and said she knows a great deal about the island's music.

"I have listened to Albita's CDs, but I have never seen her perform," Velez said. "I have friends who have seen her in Miami, and she is supposed to be fantastic."

"She is such a dynamic artist, and she's got this sound that can transport you," said Tara Kirkpatrick, UApresents publicist. "I don't think anyone who goes to this concert will be able to sit still."

Call 621-3341 for ticket information.