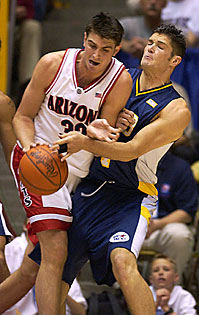 Associated Press

Arizona's Rick Anderson, left, and UC Santa Barbara's Bray Skultety battle for the ball in their first-round game of the NCAA West Regionals in Albuquerque, N.M., last Thursday. The Wildcats face the Oklahoma Sooners tonight at 5:55 MT in San Jose, Calif.

By Jeff Lund
Arizona Daily Wildcat
Thursday Mar. 21, 2002

UA meets Big 12 champs in Sweet 16

SAN JOSE, Calif. - Tonight Lute Olson's Wildcats will play another of what he calls "one-game seasons."

This one, however, has a bit more on the line.

"Every game has been win or go home," Olson said. "The NCAA Tournament is different because you are 40 minutes away from the end of your season. It's been good for our guys."

After surviving the first weekend with a pair of nail-biters against lower-seeded teams, Arizona (24-9) will meet up with No. 2 seed Oklahoma (29-4) at 5:55 MST tonight in the Compaq Center in San Jose for the right to advance to the Elite Eight on Saturday. The winner will face the winner of tonight's UCLA/Missouri game.

As for the Wildcats' game plan on how to take down one of the best all-around teams in the country, there is no secret: control the glass.

Junior forward Luke Walton said the keys to the game will be hustling and rebounding.

"The keys are going to be our intensity and the battle on the boards," Walton said. "Coach has been telling us (that) all week and we have been working on it. The key will be whoever owns the boards."

But outrebounding the Sooners is easier said than done.

Oklahoma is averaging 40 rebounds per game and is 18-1 when outrebounding opponents this season.

Another strength of OU's game is getting out of the blocks fast.

The Sooners have led at halftime in 28 of 33 games, winning 27 of those, while Arizona has been notorious for slow starts all season long.

The Wildcats have trailed at halftime 14 times this season, but have managed to put together seven second-half rallies to pull out the victories.

However, the teams that Olson sees as closest to the Sooners in terms of style of play (Oregon, Connecticut and Kansas) are all teams Arizona lost to after falling behind in the first half.

Walton said that though OU's style of play is similar to that of opponents Arizona has had trouble with this season, he feels confident the team is more prepared now.

"We had trouble with that type of team earlier in the year," Walton said. "I think our team is a lot different now, a lot more consistent."

One consistency of late has been rebounding.

In the first two tournament games, Arizona is averaging seven-and-a-half more rebounds than its opponents.

Walton said the attitude of this year's team is reminiscent of last year's Final Four squad.

"I think in terms of the mood we are pretty much the exact same," Walton said. "We like to be relaxed and focused on what we are doing. That's why it's been good for us to play all the games we have this year."