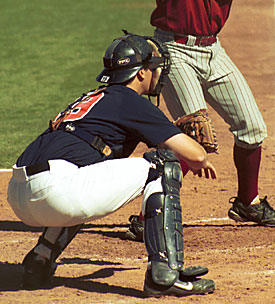 ALYSON GROVE/Arizona Daily Wildcat

UA senior Chris Cunningham prepares for a pitch earlier this month against CSU Dominguez Hills at Sancet Field. Cunningham leads the team in doubles and RBIs and is tied for the team lead in home runs going into Pac-10 play against Arizona State Friday.

By David Stevenson
Arizona Daily Wildcat
Thursday Mar. 21, 2002

Tomorrow is the second opening day for Arizona baseball, as it begins its Pacific 10 Conference schedule.

The Wildcats finished the pre-conference schedule with a 19-8 record and were ranked as high as No. 20 in the Baseball Weekly/ESPN College Coaches Poll on Feb. 11.

But now the Wildcats must prepare for tougher opponents than early season foes Southern Utah and Texas A&M Corpus Christi. Instead, they will take on national contenders - including 2001 CWS members Stanford and Southern California - in a conference that is traditionally difficult.

"I've always felt the Pac-10 is a tough conference every year because it's got great weather and a big population base," said head coach Andy Lopez. "The schools are going to get a lot of good people and competition."

Catcher Chris Cunningham leads the team in doubles (8), RBIs (33) and is tied for the lead in home runs (6). He has also received a couple of spot starts at first base to add some depth at the position.

Cunningham said he's not yet satisfied with his play, despite his early success.

"There's always some room for improvement, though. I want to get my batting average up, get on base a little bit more, take some more walks, and not strike out as much," he said. "Being versatile is good just in case of injuries, because you just never know what may happen in the future."

UA will face only eight Pac-10 foes because Oregon cut their program in 1981 due to financial hardships.
---
Arizona State (16-8)
Series time: Friday-Sunday @ Sancet Field
Outlook: The Sun Devils last season were 37-20-1, good for third in the conference and a trip to the NCAA Regionals. Once as high as No. 5 in the polls this season, they drastically fell when they were swept by No. 3 Florida State on Feb. 15-17. Junior starter Robbie "The Kid" McClellan (5-2, 2.90 ERA), a junior college transfer, has thrown two complete games and was named conference pitcher of the week on March 14.
---
Oregon State (13-7)
Series time: March 28-30 @ Corvallis, Ore.
Outlook: OSU has been able to escape a weak pre-conference schedule above .500, but that win percentage was against opponents the likes of Western Kentucky, Portland, San Francisco and Oral Roberts. Left fielder Seth Pietsch (.333 avg., .667 slg.) usually bats leadoff and already has a team-high 12 doubles. But pitching-wise, the Beavers must desperately lower their .590 staff ERA to be competitive.
---
Stanford (14-5)
Series time: April 5-7 @ Sancet Field
Outlook: Stanford reached the CWS title game last year. This year, it's still in the title hunt, having been ranked No. 1 all season. The Cardinal's college player of the year candidate tandem, designated hitter Jason Cooper (.455, 23 RBI) and outfielder Carlos Quentin (.375, 4 HR), form the most formidable 4/6 hitters in the conference. But after starters Tim Cunningham (4-1, 3.03) and Jeremy Gutherie (5-0, 42 K), the third spot in the pitching rotation is still undecided.
---
California (15-11)
Series time: April 12-14 @ Berkeley, Calif.
Outlook: Last year, UC was a first-round exit out of an NCAA Regional. Having returned seven position starters and all three starting pitchers, the Bears have struggled this year, mainly because their opponents usually score in big innings. Sophomore Conor Jackson (.402, 33 RBI) has become more versatile after playing third base as a non-starter last season. He now splits time in between third and first base and is a deadly cleanup hitter.
---
Southern California (12-10)
Series time: April 26-28 @ Los Angeles
Outlook: USC has floundered, having played all 22 games on the road because Dedeaux Field underwent a $4 million renovation. The Trojans lost pitchers Mark Prior (15-1, 1.69) and Rik Currier (12-3, 2.59), plus shortstop Seth Davidson (.323, 26 RBI), a trio who led them to two consecutive CWS appearances. No one has filled the gaping holes, as evidenced when Loyola-Marymount handed them a 31-7 loss - the worst in Trojan history - on Tuesday.
---
UCLA (13-13)
Series time: May 10-12 @ Sancet Field
Outlook: The Bruins have had a soft schedule, but they enter a tough 12-game stretch tomorrow against Miami, Long Beach State, California, Pepperdine and ASU. A collective 5.74 staff ERA means they will sometimes get into slugfests, having had 14 games where one team has scored at least nine runs. UCLA will need fleet-footed Ben Francisco (.368, 13 SB) to run the gaps in center field in order to win the muscle games.
---
Washington State (10-10)
Series time: May 17-19 @ Sancet Field
Outlook: The Cougars were a unanimous selection to finish last in the conference coaches' pre-season poll. However, WSU won the 2002 Aggie Continental Express Baseball Classic on Feb. 22-25 that included a 7-5 win over Texas A&M. Cougar third baseman Jeff LaRue - a transfer from Saddleback Community College in California - leads the team with seven doubles and a .333 average.
---
Washington (9-8-1)
Series time: May 24-26 @ Seattle
Outlook: UW has a collective .303 team average but can produce runs behind their top hitters. Shortstop Tila Reynolds (.377, .478 OBP) is one of two Huskies to have started in every game. Left fielder Jay Garthwaite (.329, .700 slugging percentage) was named Pac-10 Player of the Week on Monday. In last weekend's three-game series against Brigham Young University, the junior hit .528 with three triples and two home runs.