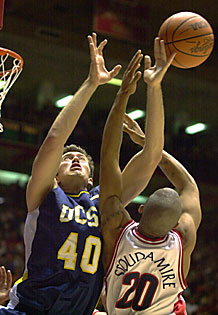 Associated Press

Arizona freshman Salim Stoudamire battles with UC Santa Barbara's Mike Vukovich for a rebound in the first round of the NCAA West Regionals in Albuquerque, N.M., last Thursday. Stoudamire has welcomed the denser air in San Jose after the high altitude in Albuquerque aggravated his asthma.

By Jeff Lund
Arizona Daily Wildcat
Thursday Mar. 21, 2002

SAN JOSE, Calif. - Freshman guard Salim Stoudamire could not be happier that tonight's game against Oklahoma is being played at sea level.

Stoudamire - who suffers from asthma - struggled to catch his breath during the first two tourney games in Albuquerque, which sits more than 5,000 feet above sea level. He was forced to come out of the game with greater frequency in order to use his inhaler.

The San Jose air has been a welcome change, he said.

"The practices aren't bothering me at all," Stoudamire said. "I will be able to go the whole game if they want me to go the whole game."

Head coach Lute Olson said he is relieved to see the Pacific 10 Conference Freshman of the Year breathing easier.

"You could see the effect it had on Salim," Olson said. "His asthma is a serious problem in a cold climate of high altitude."

Stoudamire shot just 4-of-13 in the two games in New Mexico.
---
The Wildcats looked to keep up their tournament intensity with a workout yesterday.
The team boarded an 8 a.m. chartered flight for San Jose. Upon arrival, the team was bussed to the Compaq Center, where it began its workout at noon.
A few hundred people - including students from a nearby middle school and high school - watched as Arizona did full-court and shooting drills.
As expected, a few cameras were pointed at the court by scouts from the other teams in the bracket.
Scouts from Missouri and Oklahoma were among those observing.
It was not all serious, as the players broke up into teams for shooting competitions, with the losers doing pushups.
"You have to have some moments where you can relax," freshman Isaiah Fox said. "But when it comes down to the game you have to concentrate on focusing."
---
Of the remaining teams in the NCAA Tournament, very few are unfamiliar to the Wildcats. Arizona has faced seven -tonight's game will be eight - of the 15 other teams remaining in the bracket this season.
"It is pretty obvious that the schedule has been important to us," Olson said. "I think that experience has really helped us. I am relieved we could get through it."
Arizona is 10-6 against ranked opponents on the season.
"We played all four of the teams in the Midwest final four (Kansas, Illinois, Texas and Oregon)," Olson said. "It's indicative of how tough our schedule was."
---
Last night, Oklahoma head coach Kelvin Sampson's father was rushed to the hospital after becoming ill at Oklahoma's practice Tuesday night.
Sampson said at yesterday's media conference that his mind is on things other than basketball.
Sampson said his father had a tremendous effect on his life.
"My father was a high school basketball coach," Sampson said. "Your experiences shape who you are."
Sampson's father is in stable condition at a San Jose hospital.