Students learn by teaching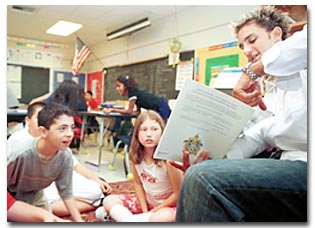 BEN DAVIDOFF
Communications junior Joe Patti reads "Yankee Doodle" to a group of fifth-grade students at Robins Elementary School yesterday afternoon. Patti is required to tutor in reading literacy skills for two hours each week as part of a class called "Literacy Tutoring," led and supervised by program director Dorothy King.
By Brian B. Gruters
---
ARIZONA DAILY WILDCAT
Friday September 7, 2001
UA undergrads participate in outreach literacy program with local schools
For one class of UA students, getting an education means educating. Over the course of the semester, the 25 participants in a community outreach literacy program are tutoring local students in reading and writing.
The Creating Academically Talented Students Literacy Center Program offered by the College of Education's department of language, reading and culture is available to kindergarten through 12th-grade students in Tucson and surrounding areas.
As a participant of the program, religious studies senior Eli Wnek said that although he is not an education major, the CATS program is a good opportunity because he said the experience he gains may be applicable in his future.
"I see myself working with kids," he said.
Wnek, who also plays defensive end for the football team, is currently tutoring kindergarten students at Sam Hughes Elementary School, 700 N. Wilson Ave. He walks there at least once a week, despite the fact that he is on crutches due to a football injury.
Still, Wnek stays committed to the program.
"I dig kids," he said.
UA undergraduates like Wnek, as participants in an expanding tutoring program that has existed at the University of Arizona for at least 10 years, will be tutoring in Tucson elementary and middle schools for UA credit.
Though the College of Education has offered the CATS Program for several years, program director Dorothy King said the community outreach aspect of the program is new.
Until this year, the CATS Program consisted only of on-site tutoring, done in the College of Education building by graduate students in the Department of Language, Reading and Culture, King said.
As part of a class offered by the department of language, reading and culture called "Literacy Tutoring," students must teach for two hours each week, under the supervision of classroom teachers.
In addition, students must attend a weekly session King teaches, in which she introduces literacy-teaching strategies.
"We learn strategy towards teaching literacy, then apply it in the classroom," said Jason Moore, a non-degree seeking graduate student.
Moore said it is also important to remember to be sensitive to the students' lives and feelings.
"Youth is not as idyllic as we think it is now," he said, "It's important to remember the students' problems."
Commenting on his motivation for participating in the program, Moore said, "The gift of English is a wonderful one to give, a very important skill for any child to have."
This semester, the students are teaching in six Tucson elementary and middle schools. Approximately half of the students are education majors. The rest, King said, are students looking to just gain valuable experience.
Communications junior Joe Patti said he is taking the class in order to be a role model for his students, though he doesn't necessarily expect to pursue a career in education.
Patti is tutoring fifth-grade students at Robins Elementary School, 3939 N. Magnetite Lane. His curriculum includes reading to the students and assisting them with their workbooks. Though education is the principal objective, he said he also has fun with his students.
"Laughter is the best tool to get them to learn," Patti said.
Maggie Shafer, principal of Robins Elementary, said she has high aspirations for the success of the CATS Program.
"We're very enthusiastic about the program and confident that it will help the students," Shafer said.