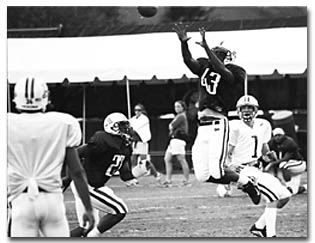 MIKE MEISINGER\
UA true freshman defensive back Kirk Johnson (in air) elevates to intercept a pass in practice. Johnson began taking repetitions yesterday with the first team because of an injury-depleted defensive corps. As many as six freshmen may forgo their redshirt status to play Saturday against Oregon State.
By Maxx Wolfson
---
ARIZONA DAILY WILDCAT
Wednesday October 10, 2001
Injuries might force three true freshmen to lose redshirt
UA head coach John Mackovic listed two reasons a player would forgo redshirt status: the player stands out in practice, or the team's dramatic need for the player presents itself.
With at least 13 players - 12 of them defenders - unavailable this weekend, Arizona has a dramatic need for inexperienced players to play against Oregon State, Mackovic said.
"I don't know what we are going to do right now," Mackovic said. "We are going to play anyone who can help us from this point forward. We didn't have the need before to play some of the younger players, but we do now."
That could mean at least three true freshmen - defensive end Isaac Watts, defensive lineman Matt Lam and linebacker Pedro Limon - will travel to Corvallis, Ore., this week to play against the Beavers. In doing so, all three would forfeit their redshirt, essentially losing a year of eligibility.
Mackovic said six other players - junior defensive tackle Bobby Ramsey, senior defensive tackle Dusty Alexander, senior linebacker Mike LaCoss, sophomore linebacker Matt Molina and true freshmen defensive tackle Carlos Williams and strong safety Kirk Johnson - might also have to be ready to play.
Williams, from Denver, was recruited as a tight end but switched positions in the fall because of lack of depth on the defensive front. He is listed as the backup defensive end behind senior Alex Luna and the backup defensive tackle behind junior Young Thompson. Williams has played sparingly this season but said he never played in front of a crowd like he will see Saturday in Reser Stadium.
"I'm going to go in with some jitters because of that crowd they have up there," Williams said. "I've come a long way so far this season, but I still have things I need to do better. I'm glad I have gotten a little game experience because some people who will play this weekend really haven't."
Mackovic agreed.
"(Williams) has developed into a player by need," Mackovic said. "We saw some things with him. To go from an offensive tight end to going on defense in the pits is not an easy transition. He is playing better."
Williams began the season listed at 250 pounds but has gained at about 25-30 pounds since then, Mackovic said.
"I'm at my ideal playing weight right now," Williams said. "I just need to build more muscle and speed."
The biggest change on defense will come at the whip linebacker position.
Sophomore Joe Siofele had surgery yesterday on his hand and wrist and will be out three to four weeks.
That means Molina, who will be making his first career start on Saturday, will spell Siofele until he is ready to return.
The whip linebacker is one of the most important positions in the double-eagle flex defense, because the player must alternate between linebacker and lineman on a play-by-play basis.
Mackovic said that he is aware Oregon State will attack the Wildcats at positions filled by young players.
"Oregon State will probably look at where he is playing and put some things in and see if they can take advantage of him," Mackovic said. "He has to be ready for that."
Luna, who has not played the whip linebacker position since his freshman year, will back up Molina.
Luna missed the Sept. 30 game against Washington State and part of last week's matchup against Oregon because of knee surgery, said he is willing to do whatever it takes to help his team.
"I got to be out there," said Luna, still clearly in pain. "It will be tough not being able to play at full speed, but right now I'm going to have to play with injury."
LaCoss, a scout team player until recently, played with the first-team defense yesterday for the first time during practice.
Mackovic said he is willing to be creative this week on defense, but has ruled out the idea that the Wildcats would get rid of the double-eagle flex defense that has been the team's trademark for the past decade.
Luna agreed with his coach about retaining the trademark defense.
"Look at its history - it works," Luna said. "If everybody is in the same state of mind and on the same page, it is going to work. Right now, we have not been executing."
Field position and ball control might be one of the most important factors Saturday. If the offense is able to establish a running game and hold on to the ball - UA had five turnovers against Oregon and four against WSU - it will keep the Arizona defense off the field and fresh.
"As far as being able to control the clock, it will be important in this game," Mackovic said. "It will be a battle physically, but it will be a battle of wits, too - just hanging in there and being tough."
Junior quarterback Jason Johnson said the offense is up to the challenge.
"I don't think we're putting more pressure on ourselves, but we're saying we need to take our game to the next level," Johnson said. "We still have a lot of faith in our defense, and I'm confident they can get the job done."