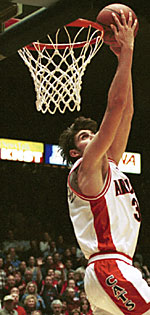 KEVIN KLAUS/Arizona Daily Wildcat

UA junior forward Rick Anderson throws down a breakaway dunk against UCLA Saturday at McKale Center. Arizona rallied late to erase a 20-point deficit, winning 96-86.

By Connor Doyle
Arizona Daily Wildcat
Tuesday Jan. 22, 2002

27-2 second-half run gives UA 6th win against ranked opponent

Lute Olson has seen a lot in his 19 years at the helm of the Arizona basketball team, but after Saturday's game against conference rival UCLA, he said he had never seen anything quite like this.

The No. 15 Wildcats (13-4, 6-2 Pac-10) came back from a 20-point second-half deficit and record-setting 3-point shooting by UCLA to beat the No. 9 Bruins, 96-86, culminating with Arizona fans rushing the court after the game for the first time in two years.

"We've had some great runs here. But against that great quality of a team, I don't think we ever have," Olson said. "They're going to make an old man out of me if they keep that up."

"I think we showed a lot of maturity tonight, not only in that we were able to come back, but to get the lead and keep the lead," said junior forward Luke Walton, who followed his triple-double against USC two nights ago with another strong performance, tallying 18 points, seven rebounds and seven assists in 39 minutes.

UCLA started the game on a 20-7 run in the first four minutes, including five 3-pointers from the Bruins, who made a total of 11 tries in the first half. The Wildcats were unable to match the defensive intensity that stifled USC's offense two nights before, and Bruin forwards Jason Kapono and Matt Barnes were able to exploit the Wildcats' weak defense for 13 and 14 points, respectively. As a team, UCLA shot 57 percent from the field and 65 percent from behind the arc.

The Bruins came out in the second half and pushed their lead to 20 points, but the Wildcats made a switch to the full-court press and the move paid dividends on both defense and offense.

"We felt they were shaky ball handlers," freshman guard Will Bynum said. "So we felt if we turned up the pressure and got the crowd into it, we'd be able to come back."

Frequent Bruin turnovers and an increased level of intensity on the part of the Wildcats sparked a 23-2 run, capped off by a Jason Gardner 3-pointer with 9:46 left in the second half to take their first lead of the game.

UCLA also had to play a considerable amount of the second half without their senior center Dan Gadzuric, who played only 18 minutes before fouling out with 5:30 remaining in the game.

"We tried to attack (Gadzuric) aggressively," freshman center Channing Frye said. "We knew he had two or three fouls, and we knew he was foul-prone."

The Bruins would cut the UA lead to 87-86 with 5:02 left after a Matt Barnes 3-pointer, but UCLA would not score again as Arizona went on to score the next nine points.

Six UA players scored in double figures, with Frye and junior guard Jason Gardner leading the way with 19 points apiece. Frye was perfect from the floor, hitting all six of his field goal attempts and all seven of his free throws.

The Bruins were paced by Kapono, who led all scorers with 25 points and tied a school record with seven 3-pointers in the contest. UCLA hit 17 3-pointers for the game - a school record - on 52 percent shooting.

The comeback was the second time this month the Wildcats have come back from a deficit of 20 points or more in McKale, the first time coming against Oregon State.

"We just need to play good in the first half, so we don't have to come back all the time," Frye said. "We're just trying to get better every game."