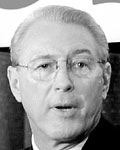 John Mackovic
UA head football coach

By Maxx Wolfson
Arizona Daily Wildcat
Tuesday Jan. 22, 2002

Welcome to Football 101 taught by UA head coach John Mackovic. The class might have its ups and downs but the teacher is definitely going to leave a lasting impression on each of his students, which is more than most teachers can say.

He is tough, authoritative, funny and even caring.

That is how the first-year coach was portrayed Sunday night in Part I of ESPN's all-access look at the 2001 UA football season. ESPN cameras followed the Wildcat team from the first day of practice until the fight against Arizona State that ended the year.

ESPN did not just capture the team on the field - they have footage of the team in meetings, at parties, at players' homes, in planes, in class and on the practice field.

The cameras show Mackovic telling his players on the sidelines - especially sophomore tailback Clarence Farmer - that if you don't do things his way then you will be sitting on the bench.

But you also see a more comical side of the former ESPN TV analyst as he prepares his team for last season's opener against San Diego State when he walks into the locker room like a locomotive singing, "Chugga-chugga-chugga Whoo Whoo," with his fist pumping up and down.

You also get to see Mackovic at home with his wife, Phyllis, who puts a vase of fresh red roses on their dining room table.

The more interesting part of the first hour, however, is when it focuses on five UA players - Farmer, senior defensive lineman Anthony Thomas, junior wide receiver Bobby Wade, senior cornerback Anthony Banks and junior quarterback Jason Johnson.

The cameras show the incomplete in a screenwriting class that kept Banks - who is hilarious throughout the first hour - ineligible for the first three games of the season.

They also take you to Wade's home in the projects of Phoenix where they show his older brother, who was shot nine years ago and is now in a wheelchair.

ESPN also did a good job of depicting how the team dealt with Sept. 11. Thomas is shown at his own party leading a moment of silence for everyone who died. He said he lost two loved ones in the attacks.

The way the show's producers portrayed Farmer was the one downfall of the first hour. Does he have a bad attitude? Yes. Does he want things done his way? Yes. But does he also become the team MVP in just his second season and rush for 1,129 yards? Yes.

There was too much focus on the downside of Farmer and not enough on how good of a football player he is and how valuable he is to the program.

All in all, ESPN did a fine job of turning thousands of hours of tape into an interesting, educational and dramatic look into the Arizona football team.

It was something Professor Mackovic would be proud of.

Part II airs Sunday at 8 p.m.