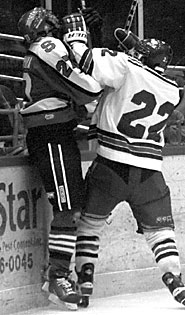 KRISTIN ELVES/Arizona Daily Wildcat

Arizona freshman wing Shaun Brooks checks a Michigan State player last weekend at the Tucson Convention Center. The UA Icecats swept both games against the Spartans.

By Dan Komyati
Arizona Daily Wildcat
Tuesday Jan. 22, 2002

Once again an opponent came to the Tucson Convention Center with hopes of an upset on their mind. But, once again the Icecats erased all hope for its visitors after only a period of play.

The Icecats (15-3-1) closed out their 16-game homestand in style this weekend, dominating Michigan State 9-3 and 7-1, including a seven-goal spurt to begin Friday night's contest.

With senior forward Kevin Meehan out with a knee injury and junior forward Matt Naylor serving a one-game suspension on Friday night, head coach Leo Golembiewski moved defenseman Pavel Jandura to forward and the senior responded with some instant offense.

The Icecats all-time leading scorer among defenseman recorded a hat trick in his first period as a left wing and the Icecats pounced on the Spartans for seven straight goals.

Senior Kyle Neary also scored twice in the first 20 minutes of action, and the Icecats cruised to a 9-3 victory over the final two periods.

Jandura finished the game with four goals and an assist. Golembiewski said his move to offense is something that has been in the works the last several weeks of practice.

"We really noticed that when Pavel rushes the puck he drags people with him," Golembiewski explained. "His shot Friday was beautiful. Pavel does a heck of a job for us, and this certainly gives us a different look."

Like most teams playing at the "Madhouse on Main Street" for the first time, the Spartans were mentally out of the game after the first period Friday night. On Saturday, they played a more focused opening period and the result was a more complete victory for the Icecats.

"We jumped out to that big lead on Friday, but Saturday night was a much better game," said Golembiewski of the 7-1 victory. "We had to play a complete 60 minutes to get the job done."

Freshman Mickey Meehan assisted on a goal by Jandura and scored one of his own to stake the Icecats to a 2-1 lead after the opening period Saturday.

UA used a persistent forecheck and solid transitional game to shut down the Spartans over the final two periods and score the final five goals of the contest.

Freshman Mike Smith made the most of his increased ice time and recorded a goal and two assists in a weekend that saw an astonishing 17 different Icecats record at least one point.

Freshman goalie Bryan Aronchick continued to anchor the Icecats, stopping 57 of 61 shots in the two victories.

The balanced Icecats attack reaches a pivotal point of the season as UA heads to the Philadelphia area this weekend in an attempt to uphold its status as one of the top teams in the nation.

After this weekend, the Icecats left little doubt that they are poised to compete at nationals in May.

"We felt to dominate Michigan State was important - they were a formidable opponent," Golembiewski said. "We really picked it up this weekend and should be ranked higher (than 11th), but these next three games will be huge."