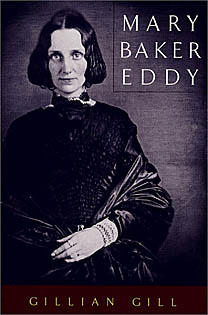 Photo courtesy of Amazon.com

During her lifetime, Mary Baker Eddy founded the religion of Christian Science and the Pulitzer-winning daily newspaper, The Christian Science Monitor.

By Jessica Suarez
Arizona Daily Wildcat
Tuesday Jan. 22, 2002

While women in Seneca Falls, N.Y., fought for civil rights during the 1848 First Women's Rights Convention, Mary Baker Eddy, like so many women of her time, was simply trying to find a way to live.

She was a widow and single mother and was in poor health with no means to support herself. But by the time she died, Eddy was a newspaper publisher, women's rights advocate, author and founder of a religious movement.

"This is Woman's Hour · ," a traveling exhibit about Eddy's life and work, is currently on display at the Special Collections Gallery next to the Main Library. The exhibit covers her life's achievements, which include founding the religion of Christian Science and the Pulitzer-winning daily newspaper, The Christian Science Monitor.

The title of the exhibit, a reference to Eddy's firm belief in women's equality, is a quote from her book, "Christian Science: No and Yes." In it, Eddy wrote, "In natural law and in religion, the right of woman to fill the highest measure of enlightened understanding and the highest places in government, is inalienable · this is woman's hour, with all its sweet amenities and its moral and religious reforms."

A discussion of the exhibit begins at 6 tonight at the Special Collections Gallery. Lecturers will explore the connections between Eddy's work and current issues. A reception follows, with music performances by students, as well appearances by experts on Eddy's life.

Nursing senior Alice Webb, who visited the exhibit and will attend the discussion, said she found Eddy's research in the health field especially interesting.

"She was one of the first people to make the connection between the mind and the body," Webb said. "Now it seems fairly common to say that someone's physical health has something to do with how they're feeling mentally, but back then, it was unheard of."

Marceil DeLacy, one of tonight's speakers, has lectured internationally on Eddy's life. She said she believes Eddy is a powerful role model for women.

"In so many ways, she opened up new opportunities for women," DeLacy said. "Personally, I think the most important thing she did to advance women's rights was to reject the patriarchal interpretation of the Adam and Eve story, which had long been used to justify male superiority. She elevated the role of women in theology and advanced a more complete understanding of God not just as Father, but as Mother."

DeLacy has devoted much of her life to learning about Eddy.

"Both my parents were Christian Scientists, so I've been aware of Mary Baker Eddy all my life," DeLacy said. "Having witnessed many healings through prayer, as explained in Eddy's book, 'Science and Health,' I became interested in devoting my life to practicing this kind of healing.

"That led to an appointment to the Christian Science Board of Lectureship in 1994. When the Mary Baker Eddy exhibit opened in Seneca Falls, N.Y., in 1998, I was asked to give a talk there about her life and was also invited back that summer to participate in the 150th anniversary celebration of the first women's rights convention. Since then, I've given many talks around the country on Mary Baker Eddy and her writings," DeLacy said.

The exhibit, which closes Feb. 26, was prepared by The Writings of Mary Baker Eddy and the National Parks Service.